Unfortunately there is an outbreak of COVID-19 in our Summer Journey Program. That means multiple students have been diagnosed with COVID-19 within this past week. To help reduce any further spread of the disease, school buildings and school busses are being thoroughly cleaned and sanitized. Furthermore, beginning Monday, June 14th, all individuals, students and staff alike, who have not been fully vaccinated for COVID -19 will once again be required to wear a mask until the outbreak subsides. We will work closely with our local health department to monitor this outbreak and as always focus on the health and safety of our students and staff.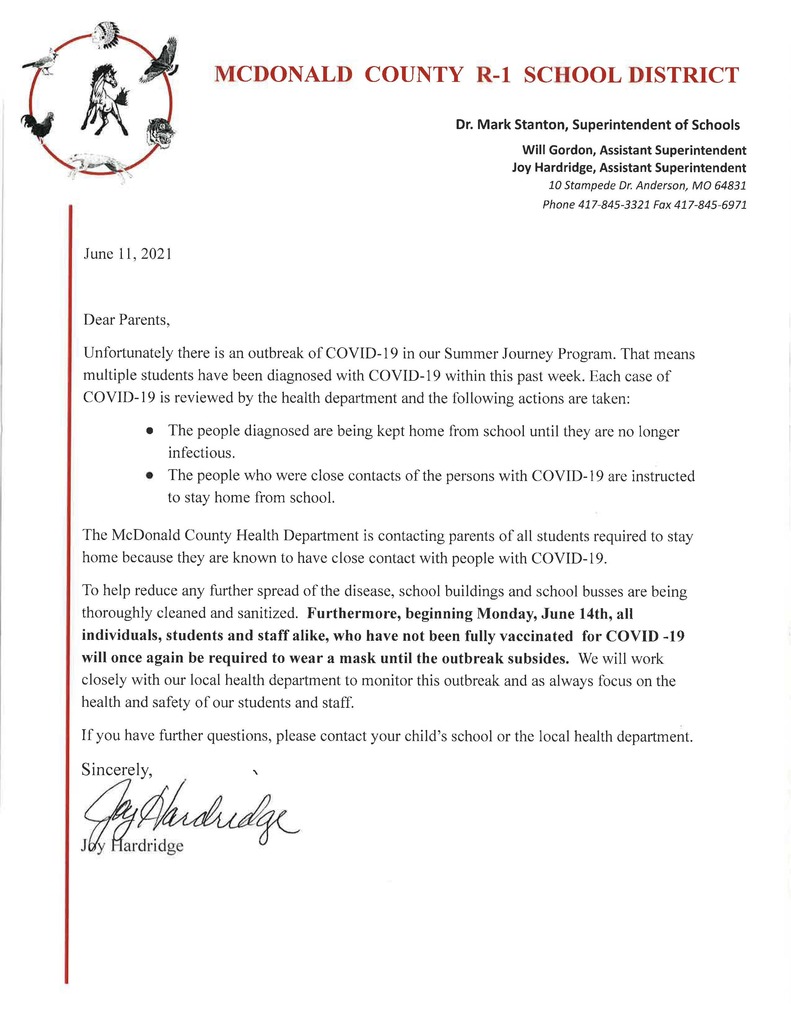 On this Memorial Day, MCR1 honors the men and women of the US Armed Forces who gave the ultimate sacrifice to our great Nation. We appreciate you! #MCR1Pride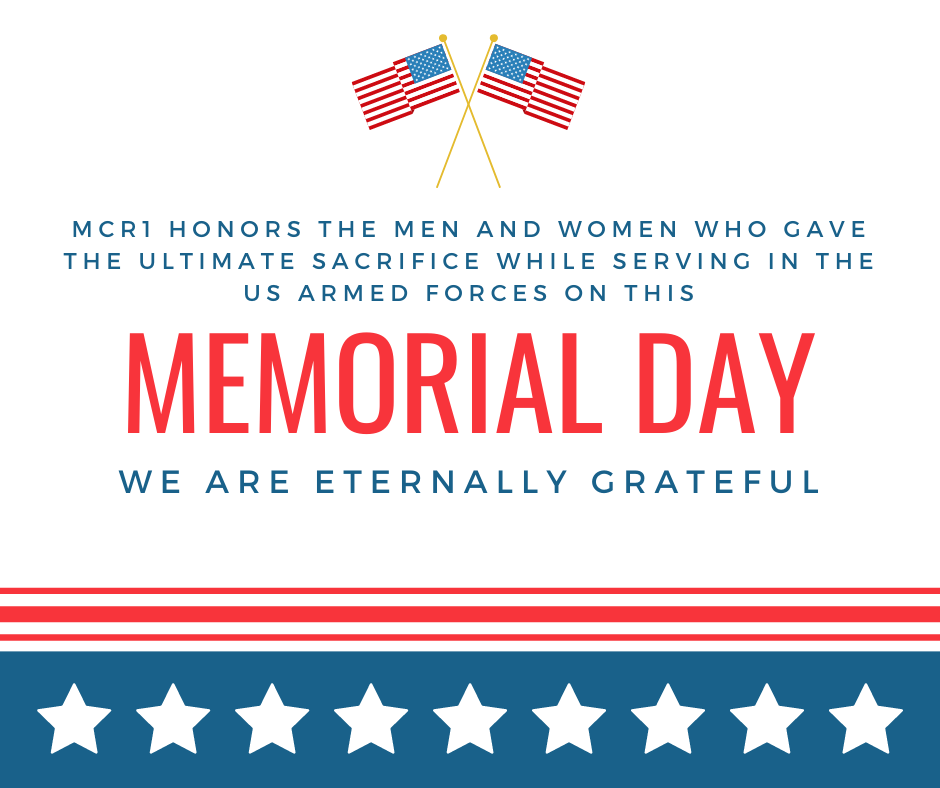 McDonald County R-1 School Board, after a careful review of current COVID related statistics for both student and staff in the district, voted on Thursday evening to ease several of the COVID restrictions which have been in place during the 2020-2021 school year. Effective immediately, the board has voted to change the mask mandate. As of the May 13th vote, mask will be optional instead of mandatory for both students and staff. In addition, parents and volunteers are once again permitted on campuses and in school buildings as they have been in previous years. Also dropped were the screening protocols of both staff and guest. One final change effecting students was opening up the option for student field trip experiences. Board members did stress that lifting these restrictions, in paticular releasing the mask mandate, could potentially result in an increase number of students excluded from school in cases where students were exposed to a COVID positive individual on campus. The school will continue to keep accurate seating chart documentation and work closely with the McDonald County Health Department to monitor the COVID impact on students and staff. If the COVID numbers increase significantly, the school administration in conjunction with the school board could reverse these decisions as needed to protect the health of students and staff.

Our last day of the regular school year is scheduled for Wednesday, May 26. Summer School begins Thursday, May 27! We hope you plan to attend this fantastic educational opportunity! Please contact your child's school for more details or to enroll. #MCR1Pride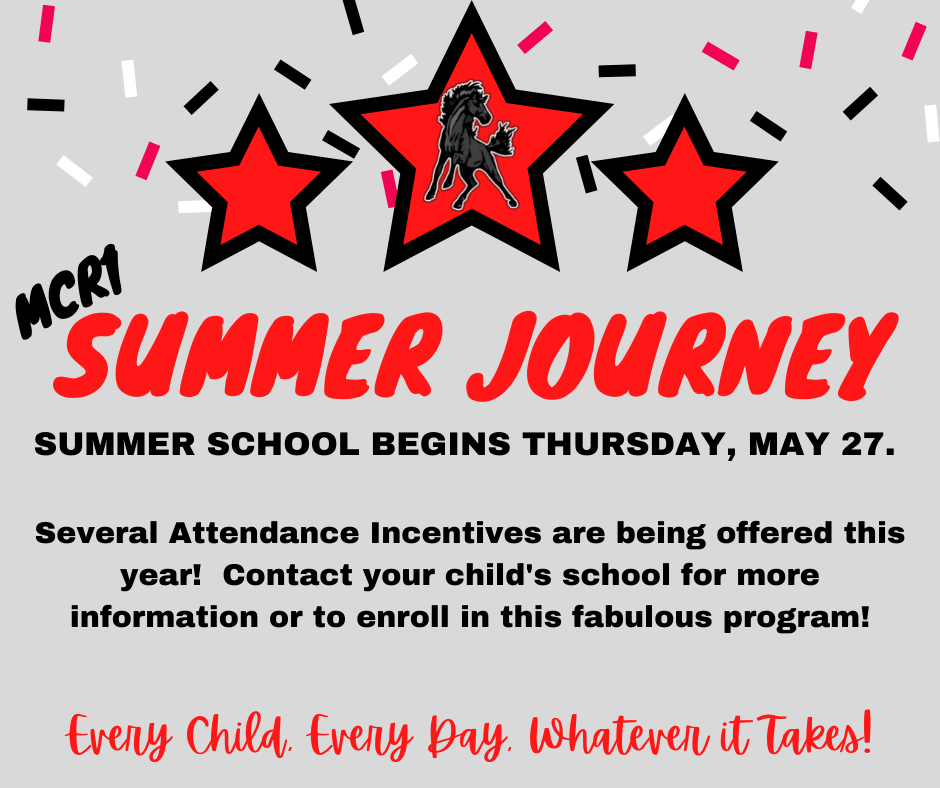 We are quickly approaching our summer school session! We will host summer school May 27 - June 29. Contact your child's school for more details and to enroll in Summer Journey!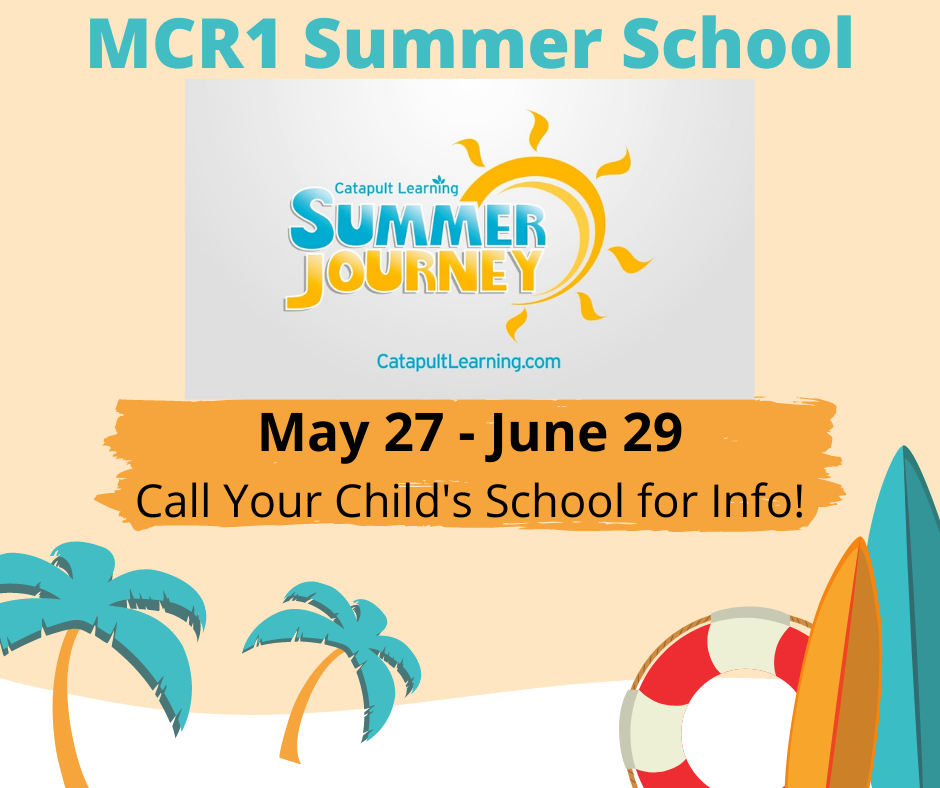 We are thrilled to announce Summer SOPE! This immersive, hands-on summer learning experience for Mustangs currently in 6th and 7th grade includes hiking, canoeing, and many other outdoor skills! Follow this link to apply for a spot on our SOPE team
https://bit.ly/3eHZtzd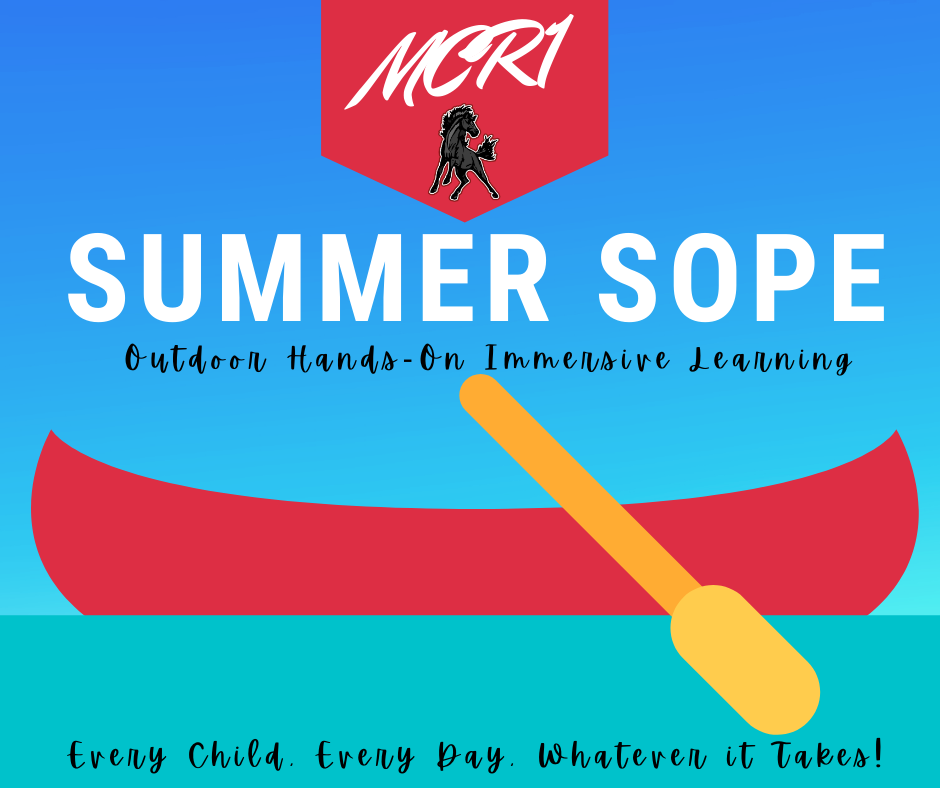 Did you know MCR1 has a Mountain Bike Team? Are you interested in joining? We will host an informational meeting on Tuesday, April 27 at 6:00 pm at Pineville Elementary for interested students who will be in 6th grade - 12th grade next school year. We hope to see you there!

Good morning, Mustang Nation! Welcome back to school! We are delighted to spend another week engaged in innovative learning with you! Let's work together to make this an amazing week! #MCR1Pride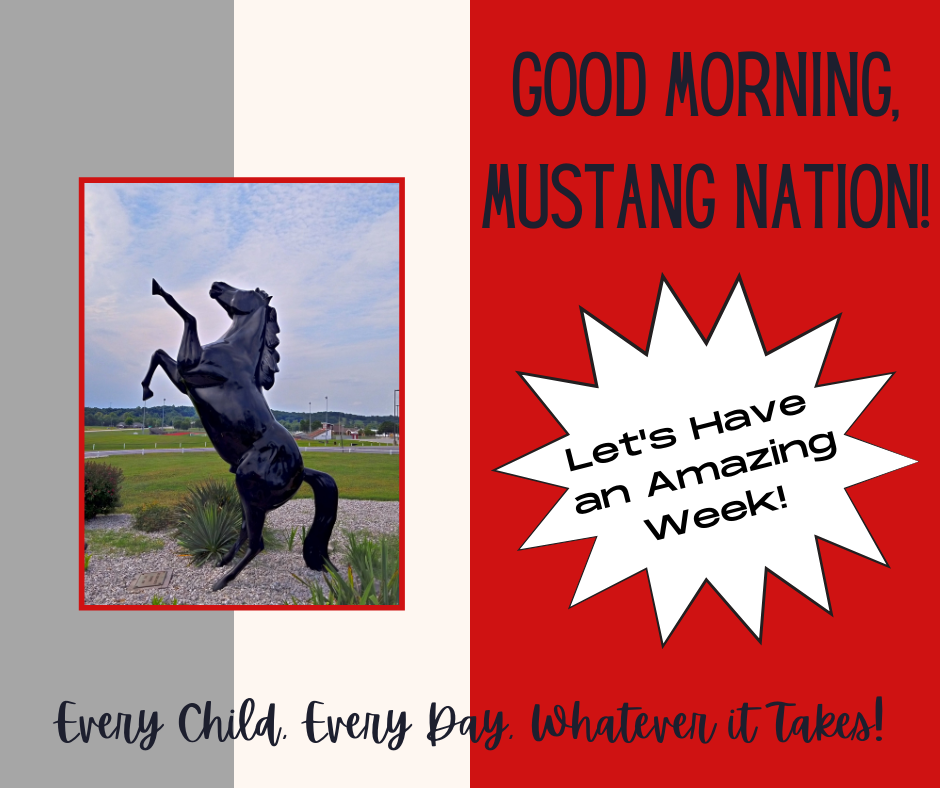 Wishing MCR1 students, staff, and community stakeholders a Happy Easter!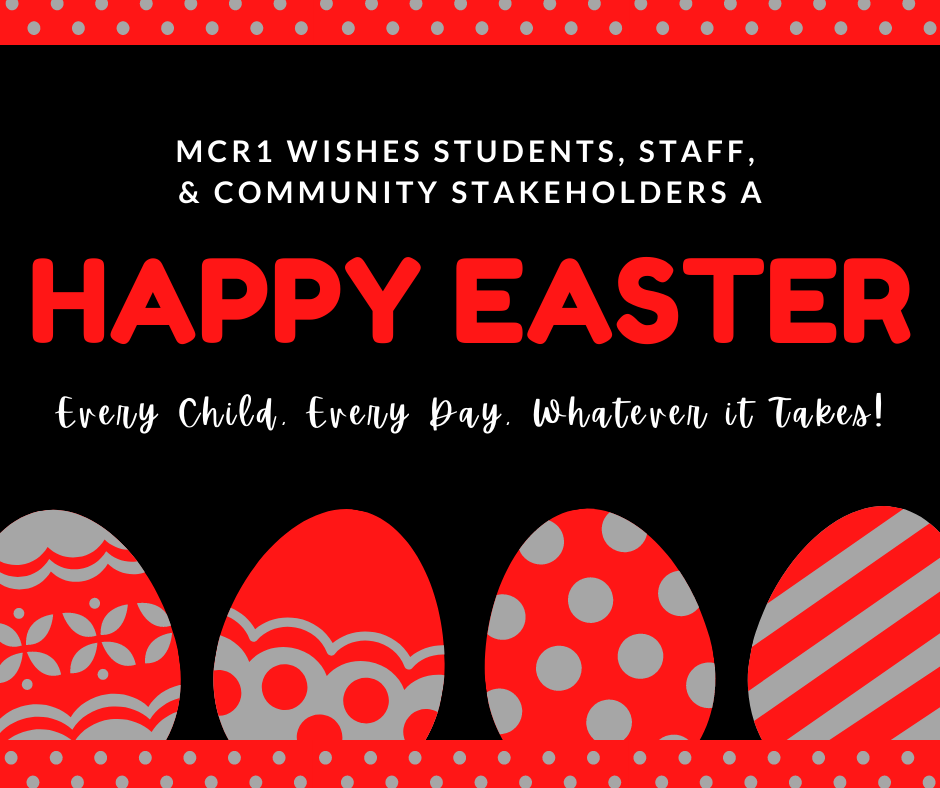 Hey, Mustang Nation! This is a reminder that school will be closed for students and staff on Friday, April 2. This was a previously scheduled day off. School will resume Monday, April 5. #MCR1Pride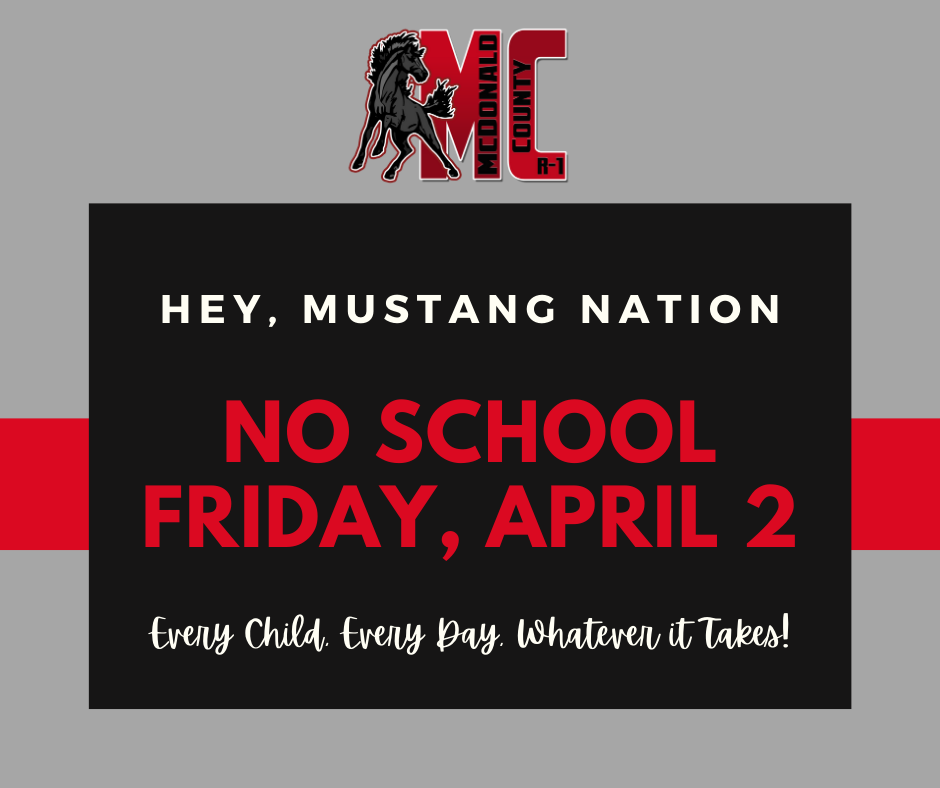 Good morning, Mustang Nation! Welcome back to school! Let's make this a great week! #MCR1Pride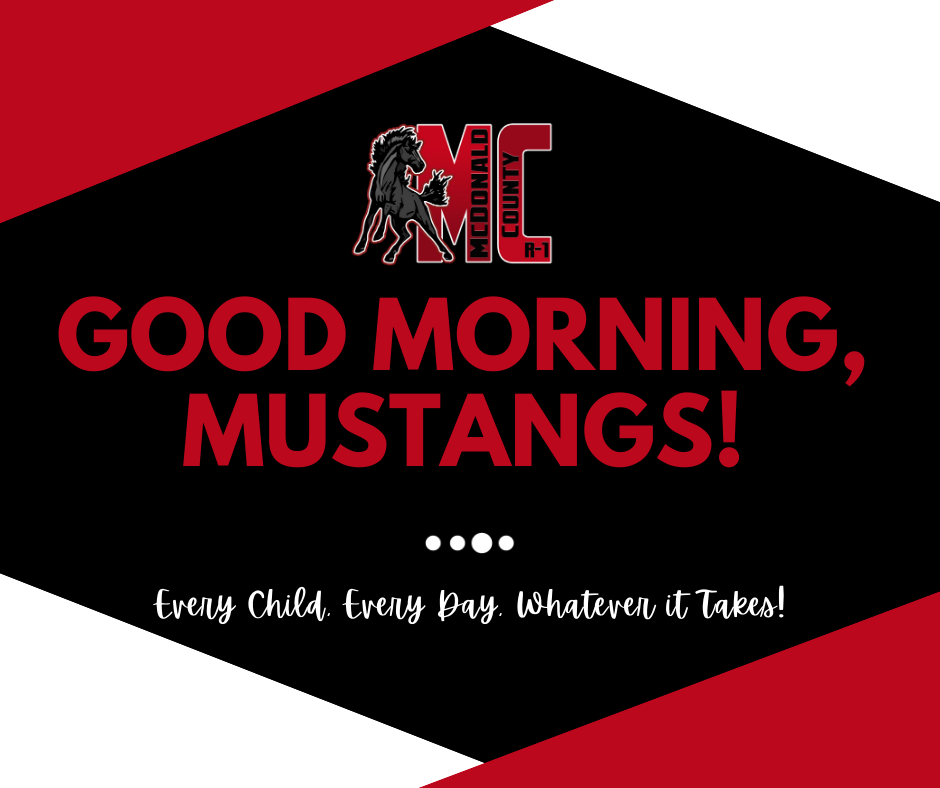 It's National School Breakfast Week and MCR1 is thrilled to partner with OPAA! Food Services to promote our school breakfast program! OPAA has worked hard to support our Mustangs and we are grateful for their commitment to our schools during this challenging year. #MCR1Pride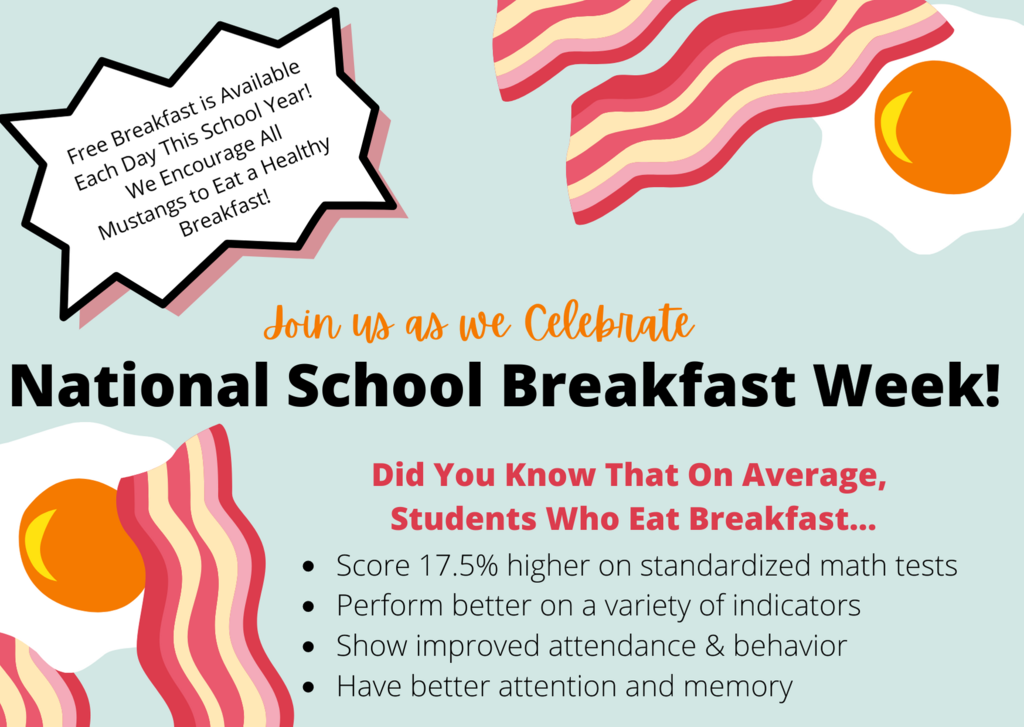 Good morning, Mustang Nation! Let's make this a great week! #MCR1Pride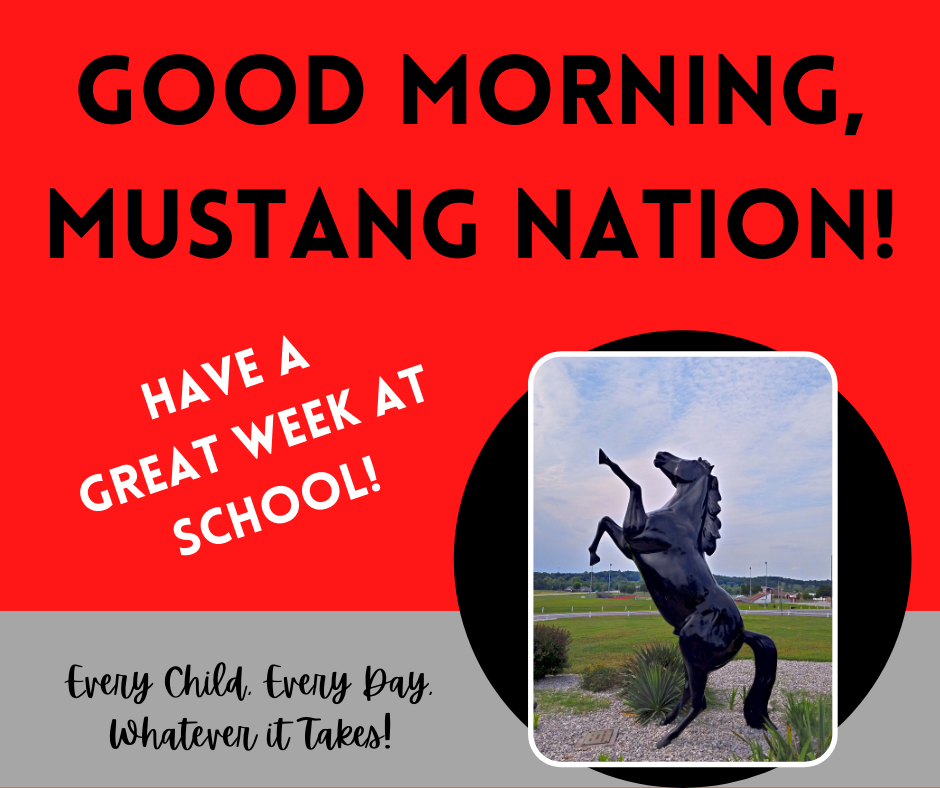 One of our amazing community partners, Ozarks Community Hospital, has graciously offered to provide free sports physicals this Saturday, March 20 and Saturday, April 17. We encourage our MCR1 student athletes to take advantage of this spectacular service! #MCR1Pride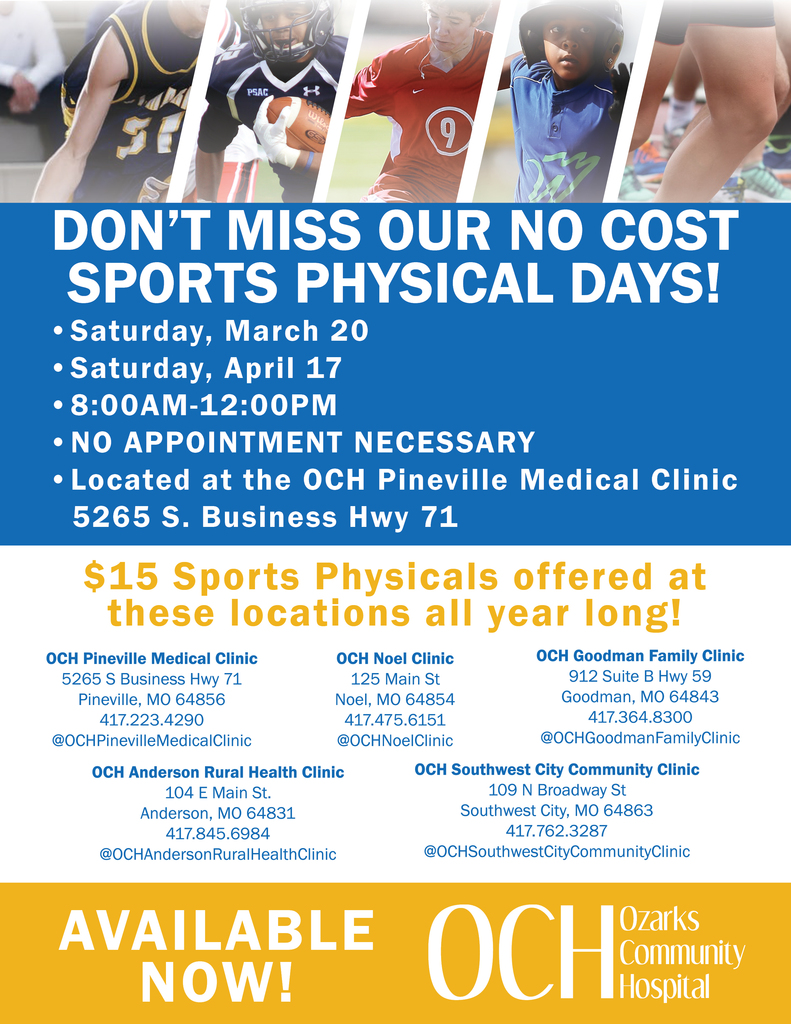 Good morning, Mustang Nation! Welcome back to school! We are thrilled to welcome you back to another week of engaging learning opportunities! We are so glad you're here with us. #MCR1Pride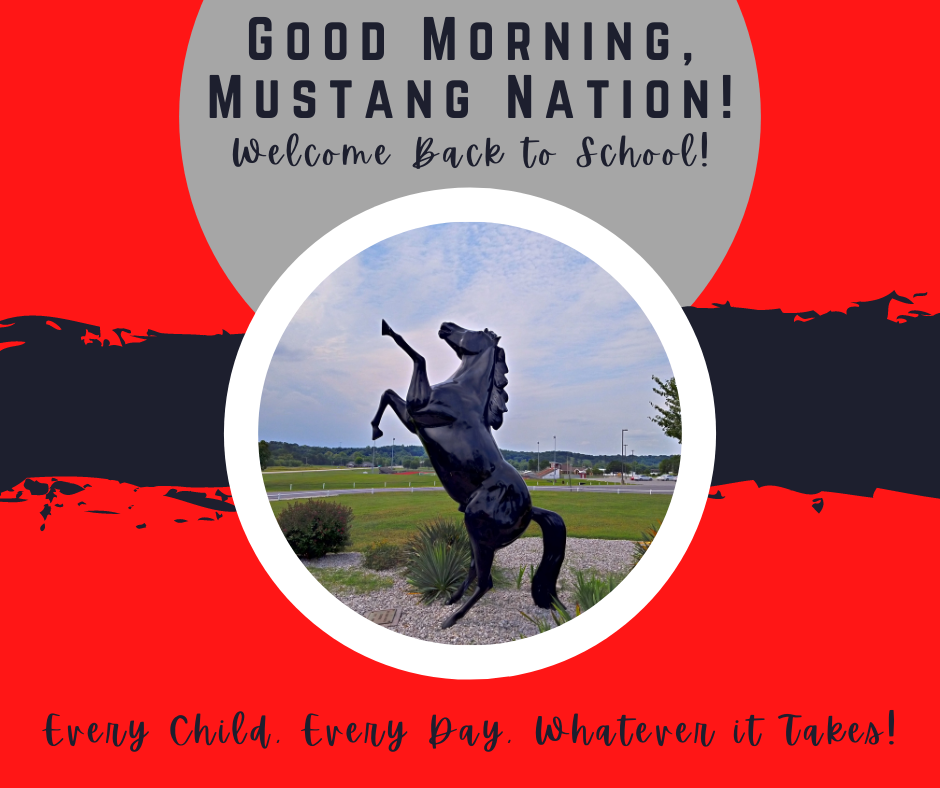 Calling all future Mustangs! This is a friendly reminder that 21/22 enrollment for early childhood and kindergarten is quickly approaching. Please contact your child's school for more information or to schedule an appointment.

Good morning, Mustang Nation! School is closed this week for spring break. We will see you all next week! #MCR1Pride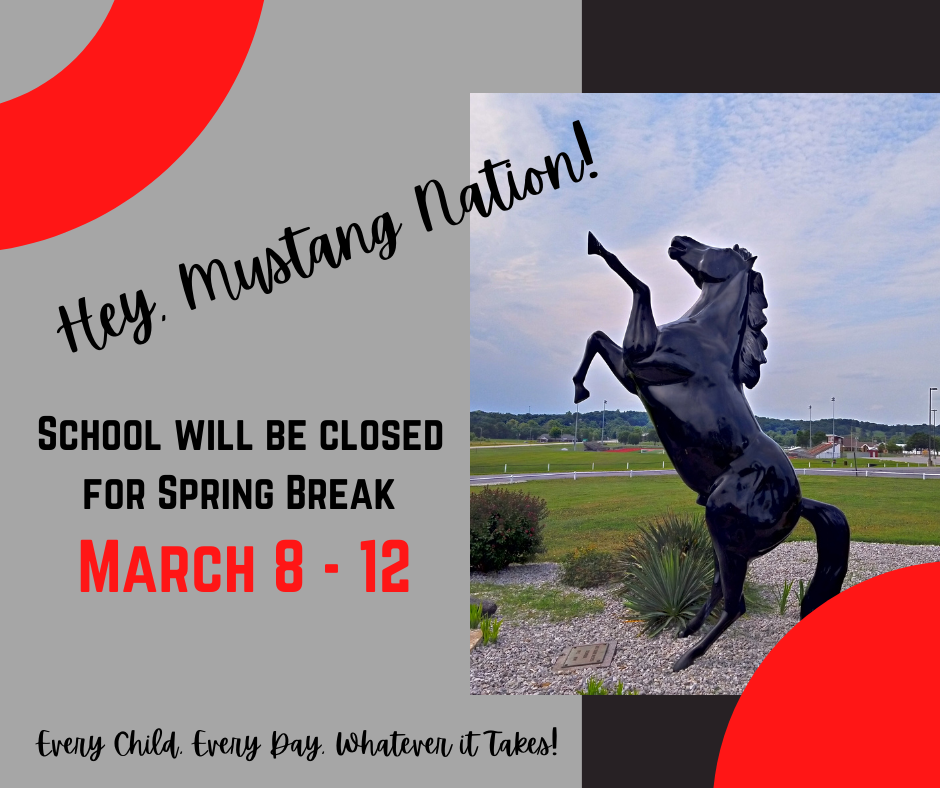 Our 20/21 school calendar has been amended. As of today, the last day of school is Wednesday, May 26. The updated calendar can be viewed by following this link shorturl.at/eAGHM

Hey, Mustang Nation! A friendly reminder that MCR1 Schools are closed next week, March 8-12, for Spring Break! #MCR1Pride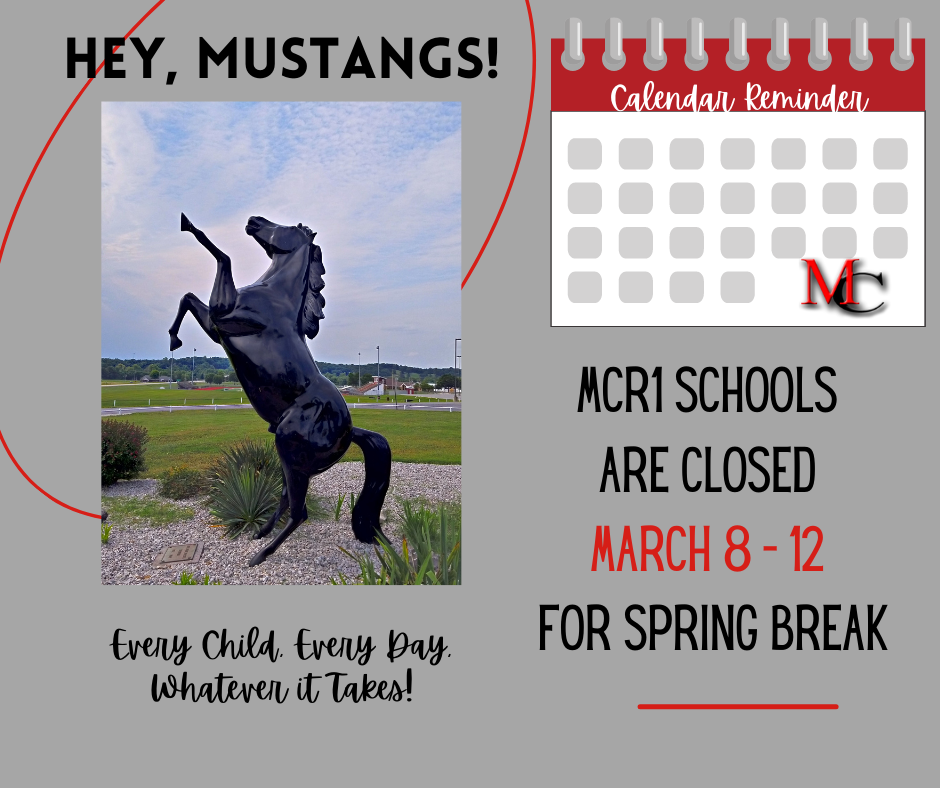 We are excited to share information about your child's academic progress! Spring parent and teacher conferences will be conducted virtually between now and April 1. Your child's teacher(s) will contact you to make arrangements. #MCR1Pride