📣🌸🌞🎉 HAPPY SPRING BREAK! 🎉🌞🌸📣 Just a quick reminder that McDonald County Schools are out for Spring Break from March 20-24! 🙌🏼🎉 Take some time to relax, have fun, and recharge! 🎉🏖️🌴 We'll see you back in class on Monday, March 27! 📚👨‍🏫👩‍🏫 🌸🌞🎉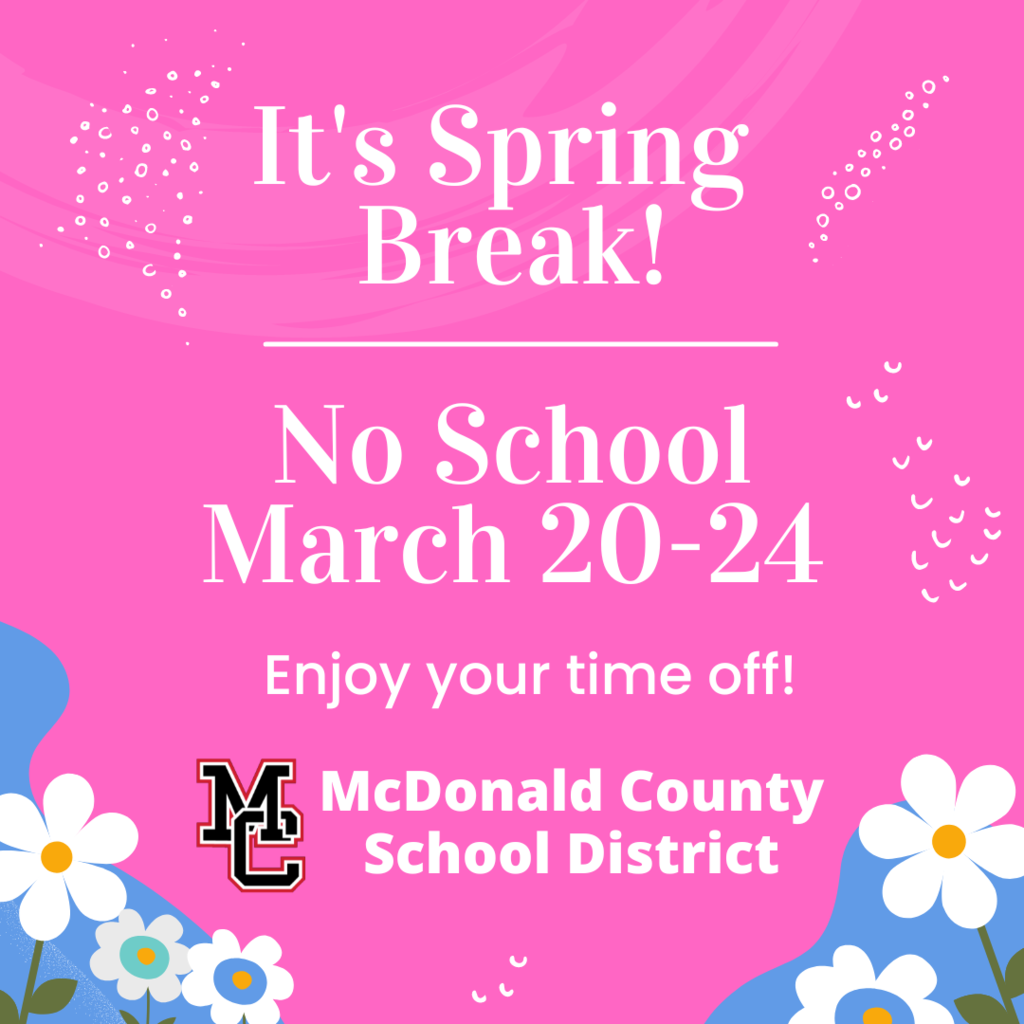 📣 Happy #MotivationalMonday everyone! 🔥 Let's start the week with this inspiring reminder from William Butler Yeats: "Education is not the filling of a pail, but the lighting of a fire." 🔥 We hope this quote inspires you to approach your learning with a passion and curiosity that ignites a lifelong love for education. 💕📚 🤔 Remember, every day is an opportunity to learn and grow, so let's make the most of it! 🌟

👀 🔍 Seeking out the best! It's what recruiters from McDonald County Schools are doing as current teachers are retiring and others are moving from the district. 🏫 The team recently gathered several top prospects from the Missouri Southern State University Education Career Fair. 🧑‍🏫👩‍🏫 It's just part of a push by school leaders to attract educators who are passionate, dedicated, and motivated to make sure our students are provided with the highest quality education. 📚🏅 Here's a look at a story by KODE/KSN TV highlighting McDonald County at the career fair:
https://www.fourstateshomepage.com/mssu/learning-about-teaching-opportunities-at-the-education-career-fair/
Just another way McDonald County Schools make a difference in the lives of every child, every day, whatever it takes! ❤️🖤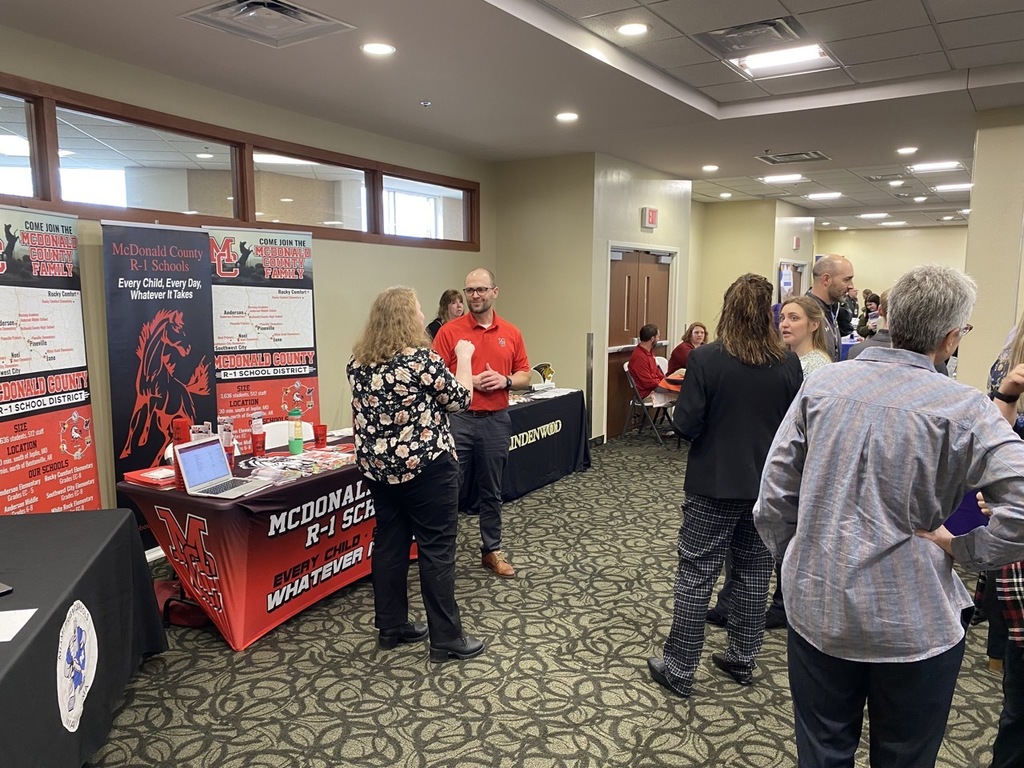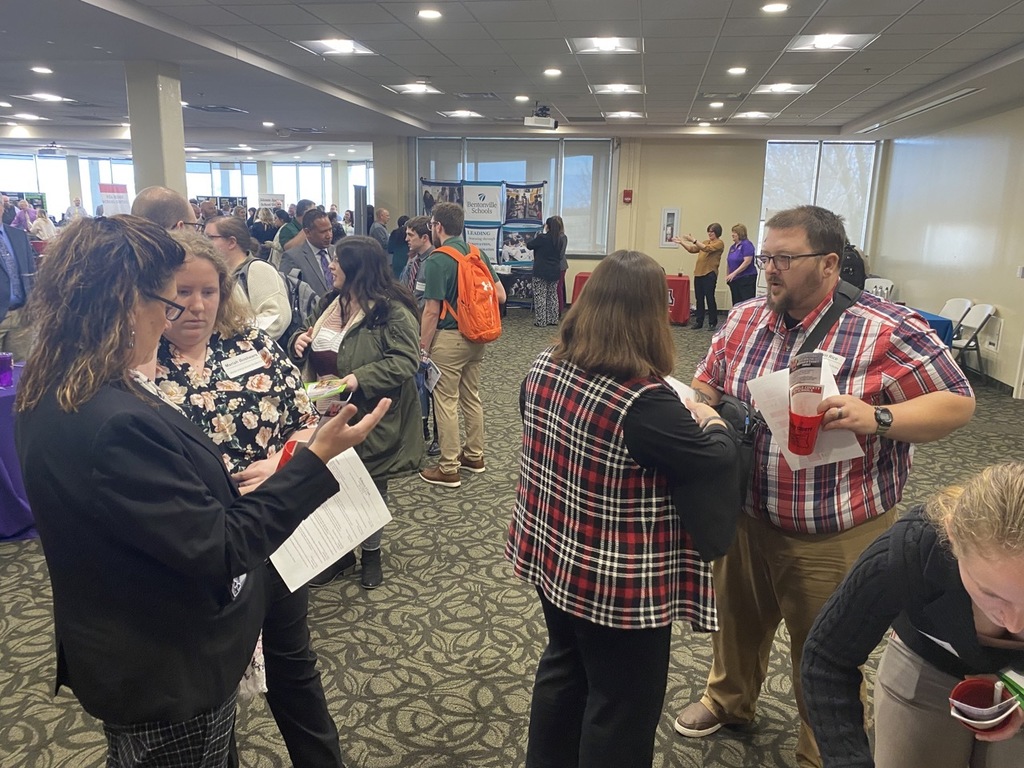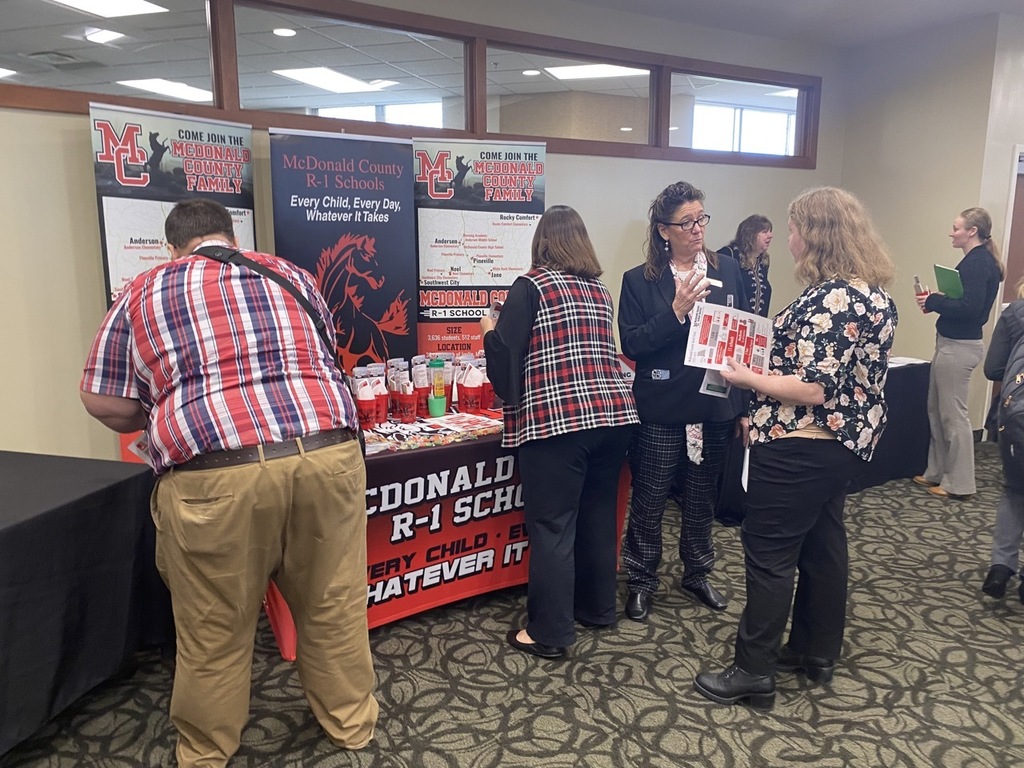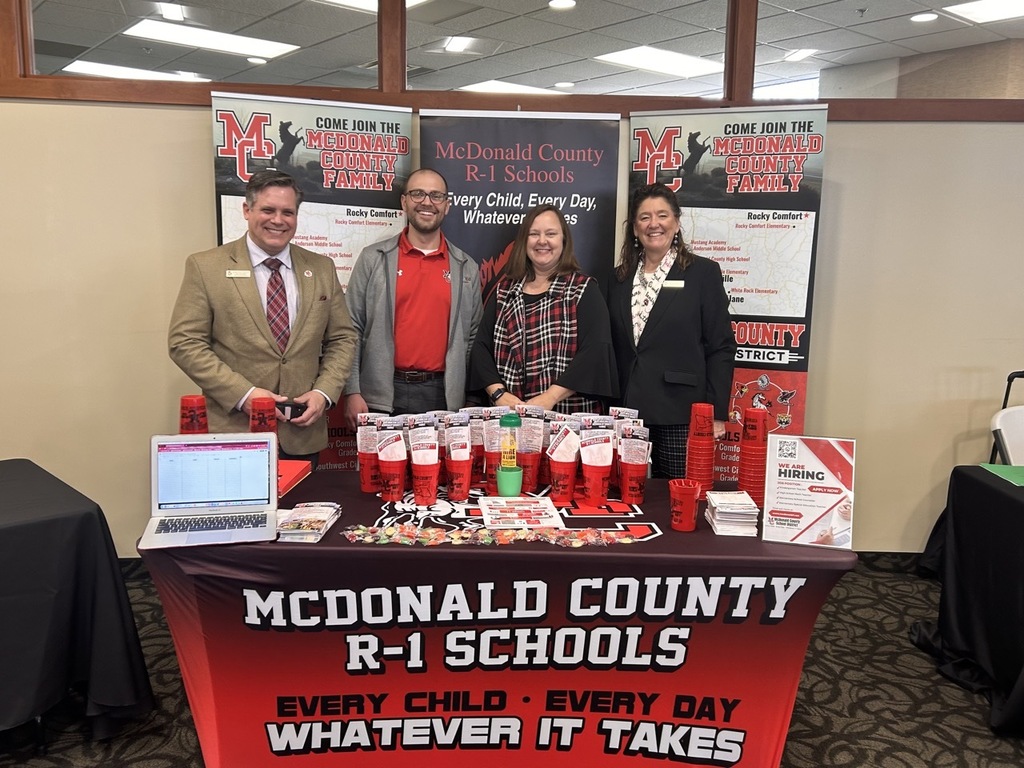 📣 How about a big shout-out to some real heroes in McDonald County Schools? 🦸💪 Wednesday, February 22 is National School Bus Driver Appreciation Day! 🎉🚌👏 With more than 420 square miles in the school district, our bus drivers travel hundreds of thousands of miles each year to get our students safely transported to and from school. 🙌🏫 To all our dedicated bus drivers, we want to say a big THANK YOU for everything you do. Your commitment to ensuring the safety and well-being of our students is truly valued and appreciated. 🙏❤️ Let's give a round of applause to all the hardworking and caring school bus drivers out there who make a difference in every child, every day, whatever it takes!! 🎉👏🚌

🔦 Shining the light on learning. 📚 Students in Mrs. Martin's 5th-grade class at Noel Elementary turned out the lights 💡 to learn a lesson about the sun and shadows. 🌚 🌅Using flashlights🔦, animal figurines🦓🐘, protractors📏, and paper📈, these young scientists👨‍🎓👩‍🎓 are exploring how the angle of the sun🌞 affects the length and position of shadows. 🤔What can they learn from this lesson? Well, by measuring and analyzing the shadows, they can gain a deeper understanding of the movement of the Earth, the rotation of the sun, and how they both contribute to the changing length and direction of shadows throughout the day. 🌎🕰️ Without a shadow of a doubt, these students are some of the brightest around! 😁 Just another way McDonald County Schools make a difference in every child, every day, whatever it takes! ❤️🖤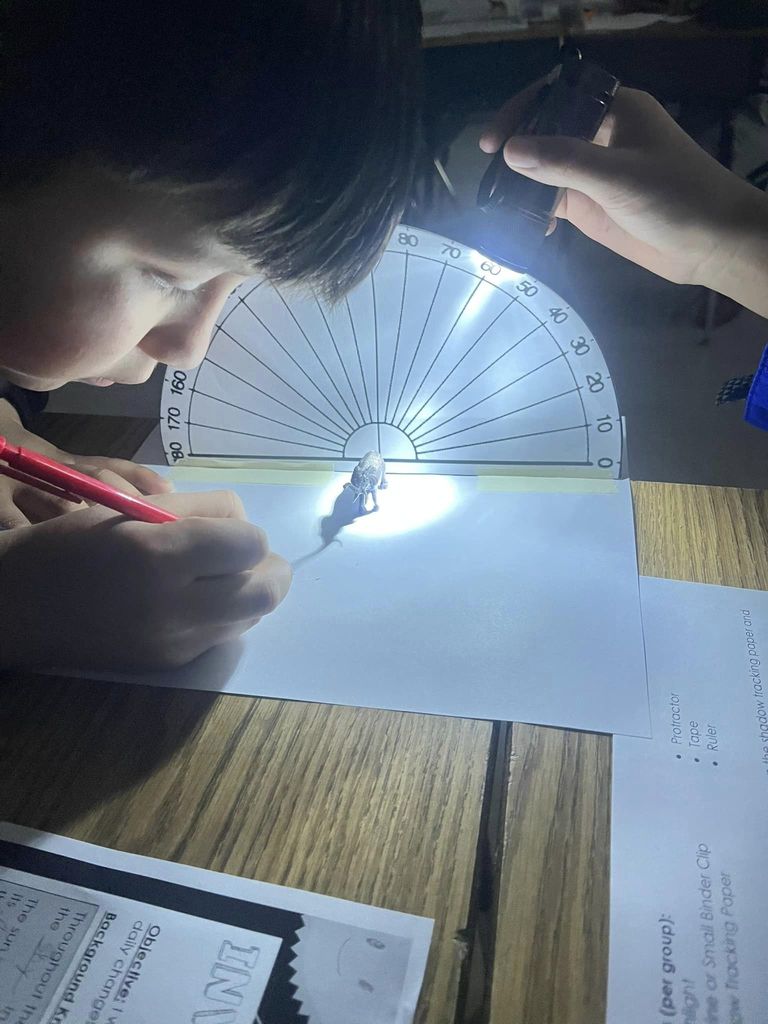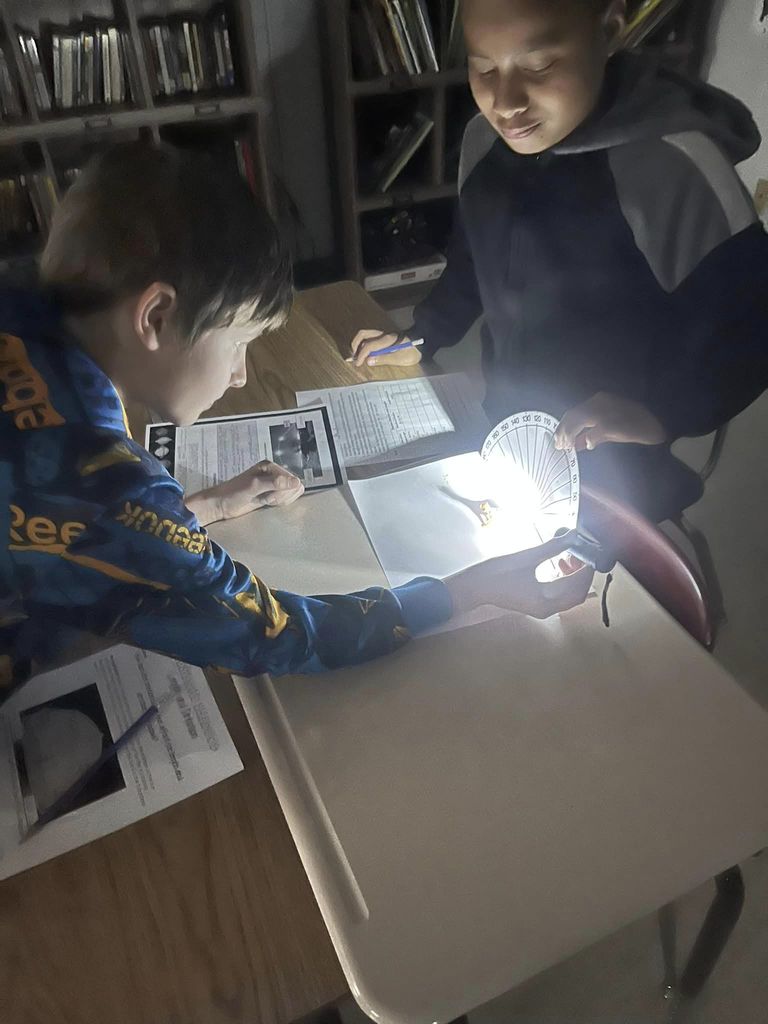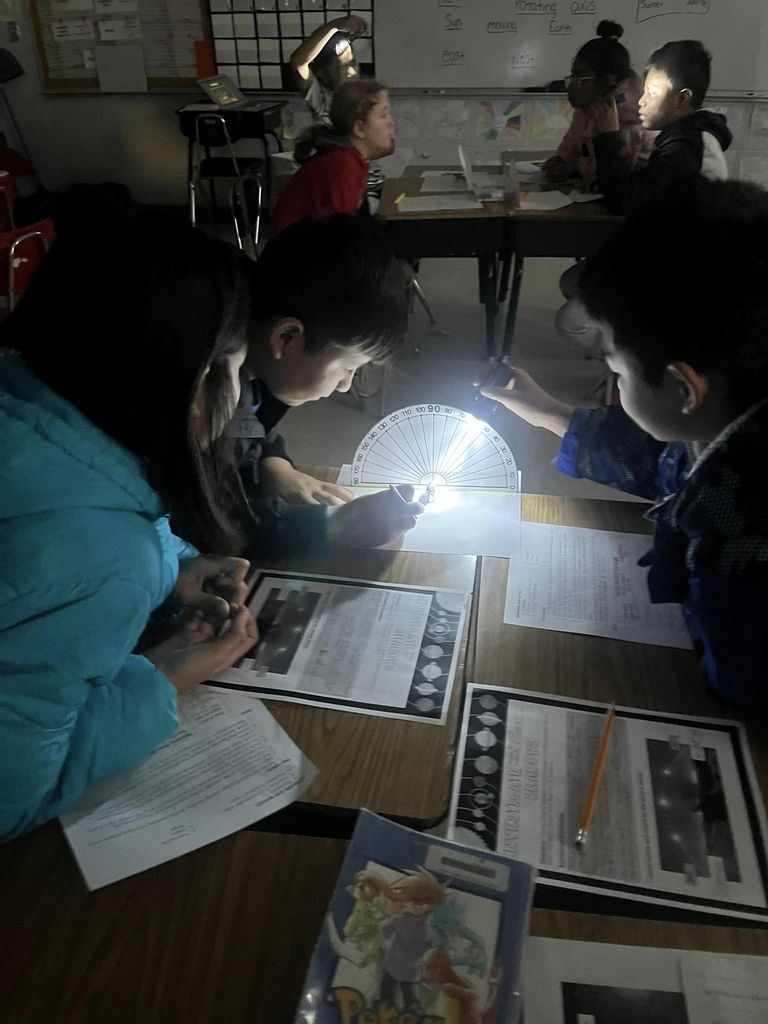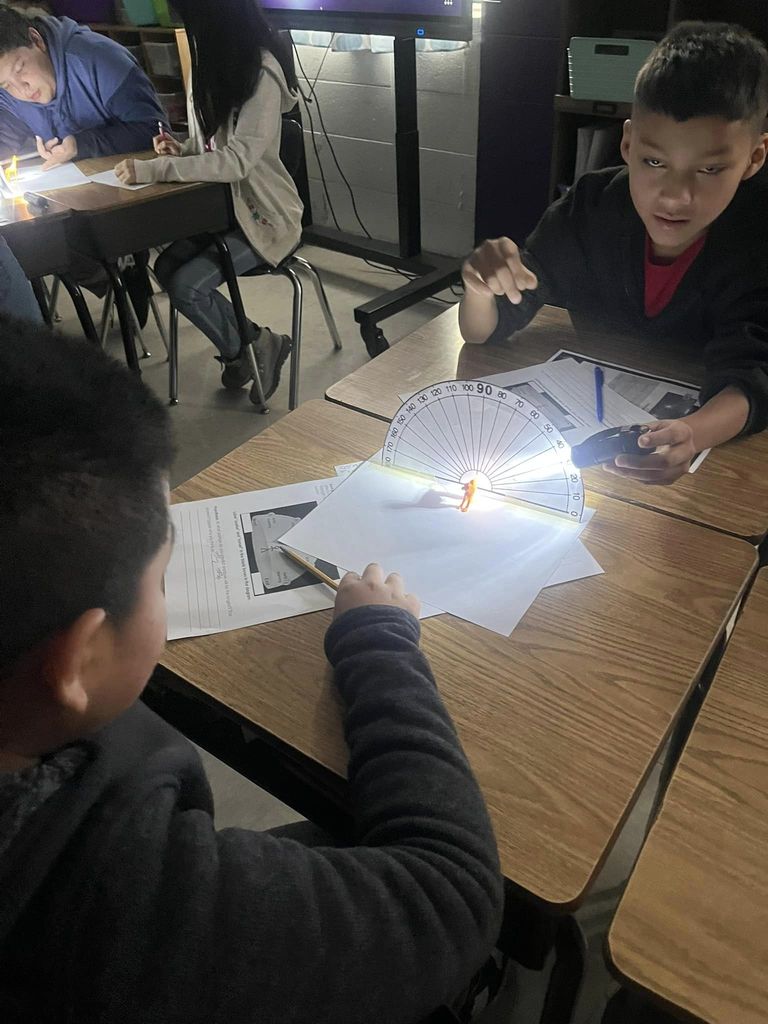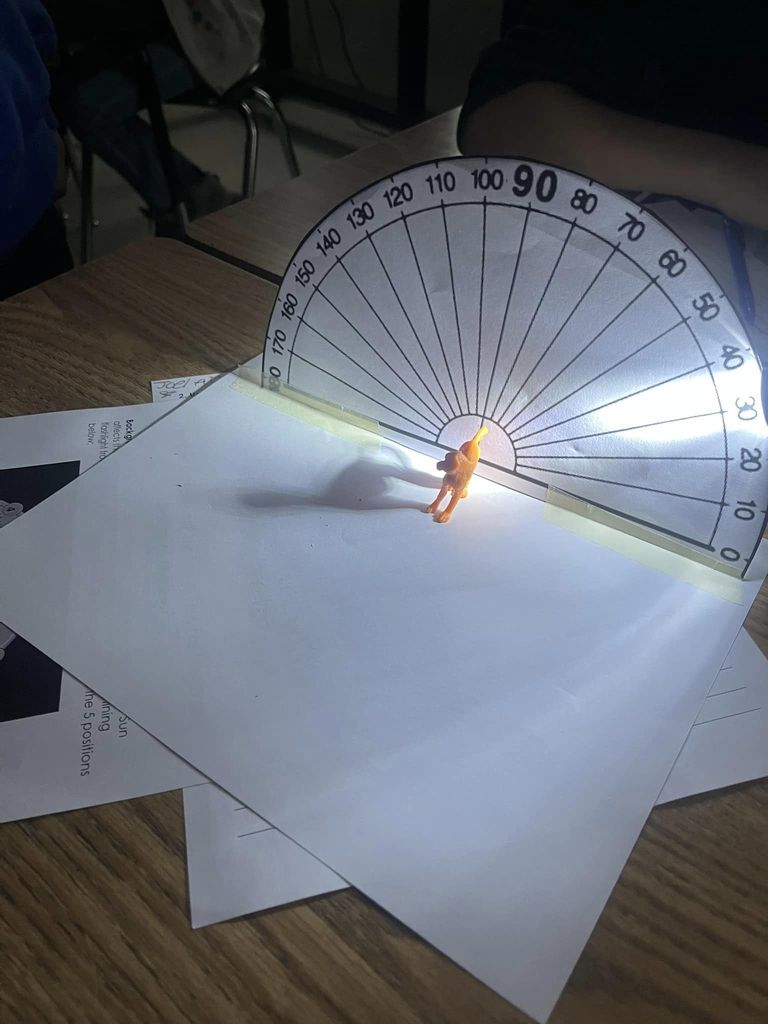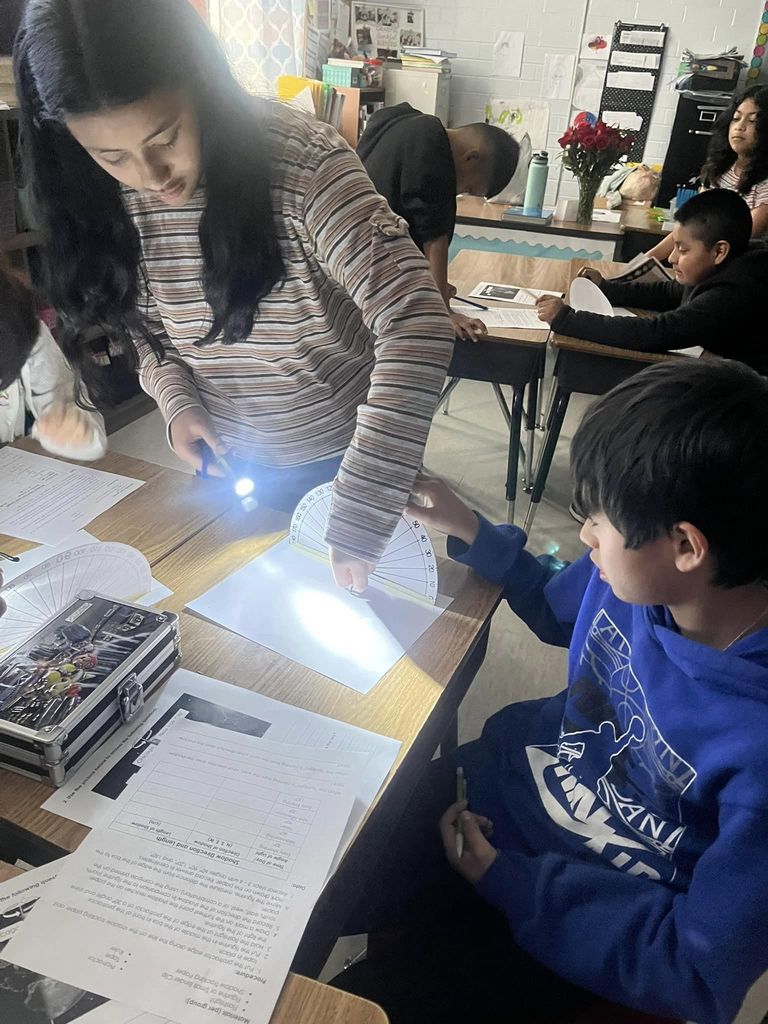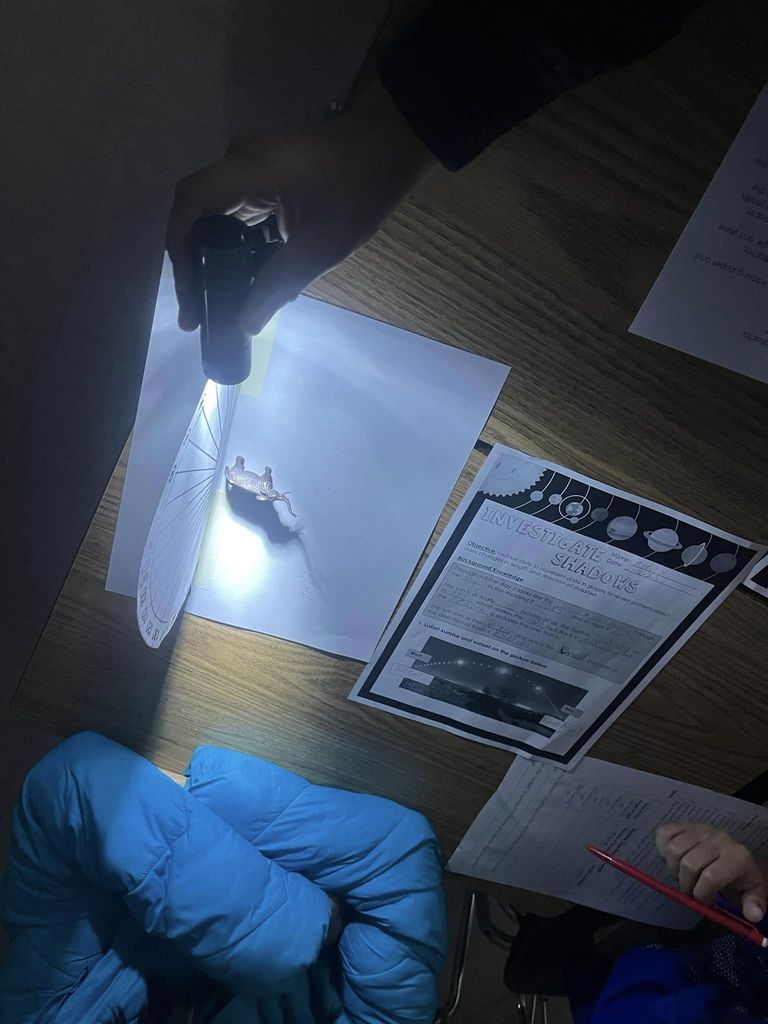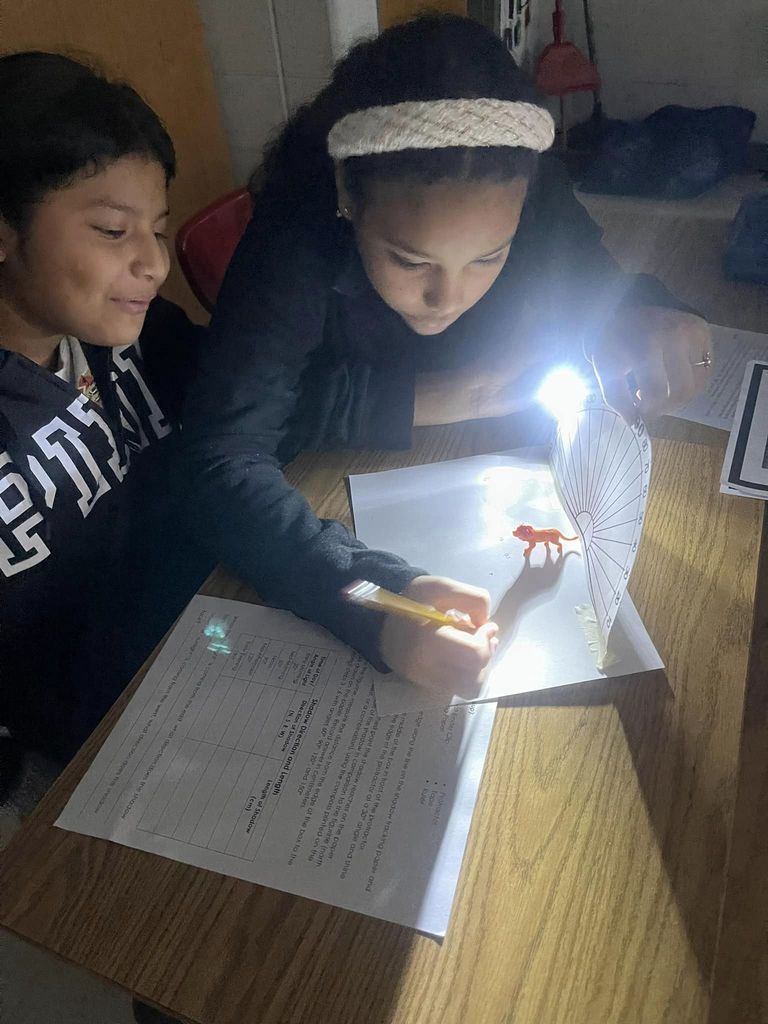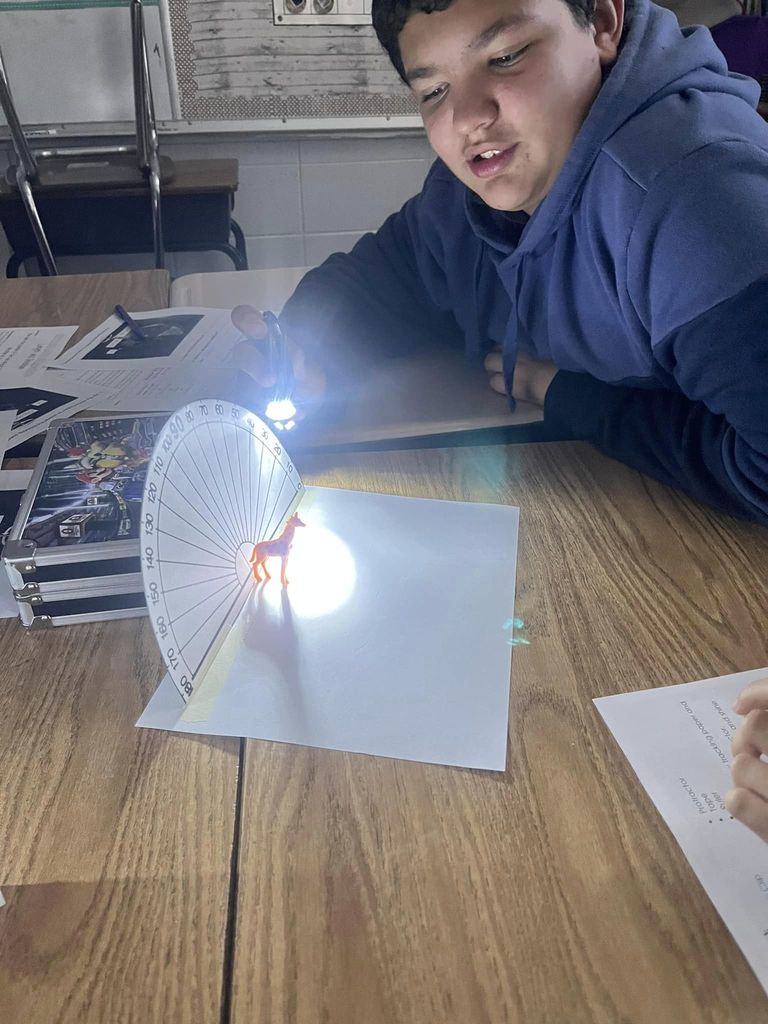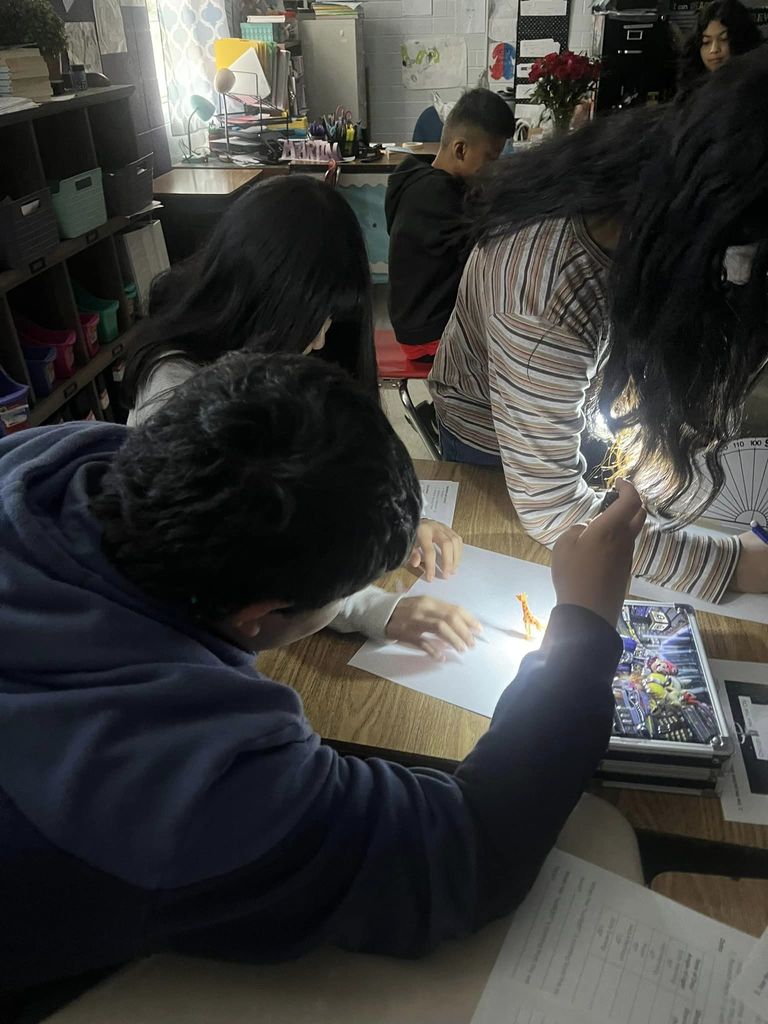 It's National School Resource Officer Appreciation Day! 🎉👮‍♀️👮‍♂️ 🗓️ Today, we celebrate and honor the incredible work of our SROs here in the McDonald County School District. From ensuring the safety and security of our students to serving as positive role models and building relationships within our community, our SROs go above and beyond in their line of duty. They work tirelessly to provide a safe and welcoming learning environment for our students and staff, and their dedication is truly appreciated.💪 So let's give a big shoutout and thank you to all of our amazing SROs for making a difference in every child, every day, whatever it takes! 🙌👏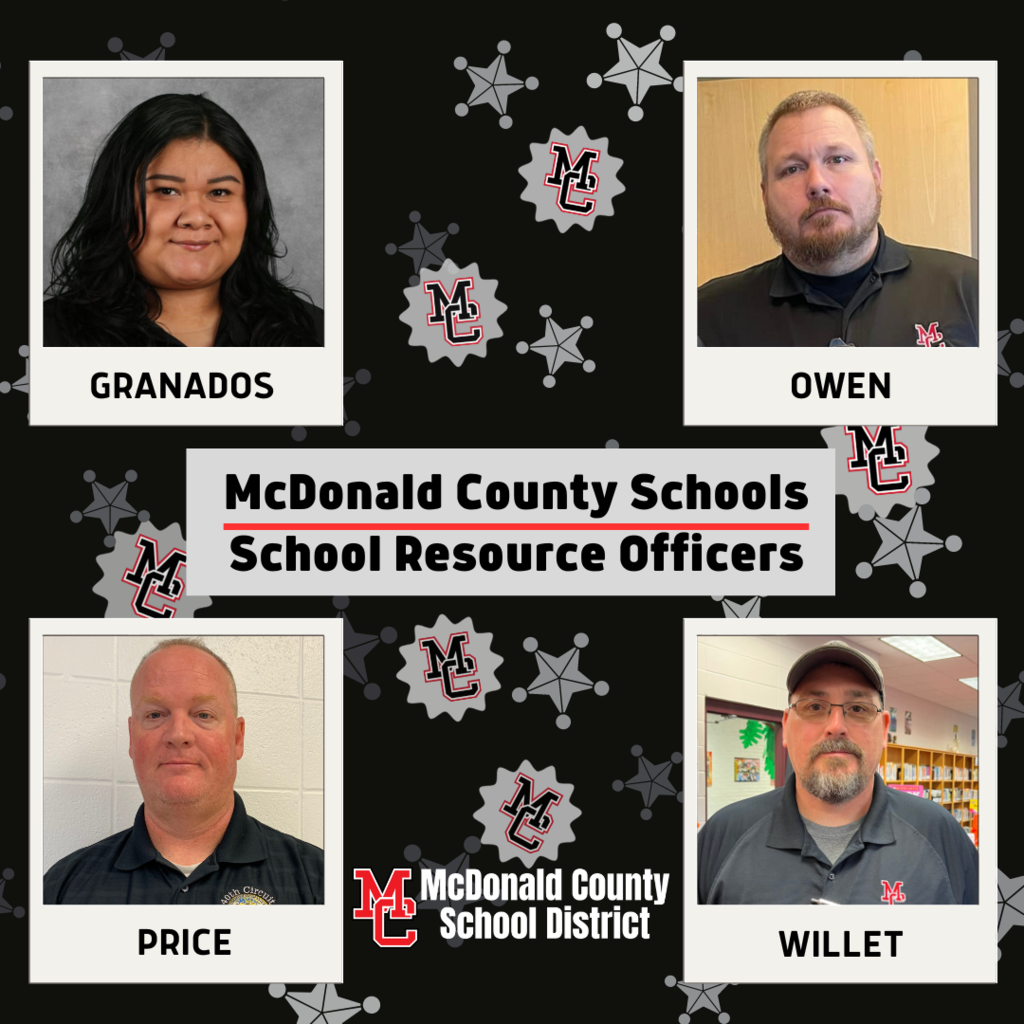 💗 We're ready! 💕 💘 Hearts cut and glued. 💘Cards made with help from high school friends. 💘 Balloons filled and delivered. All across the district, our students are "valentined" up! 🫶 We hope you are too! 💓 Happy Valentine's Day from your friends at McDonald County Schools! #HappyValentinesDay #Balloonsfilled #CardsMade #Heartscutandglued #McDonaldCountySchools #MCR1 #WeAre1 #BeMine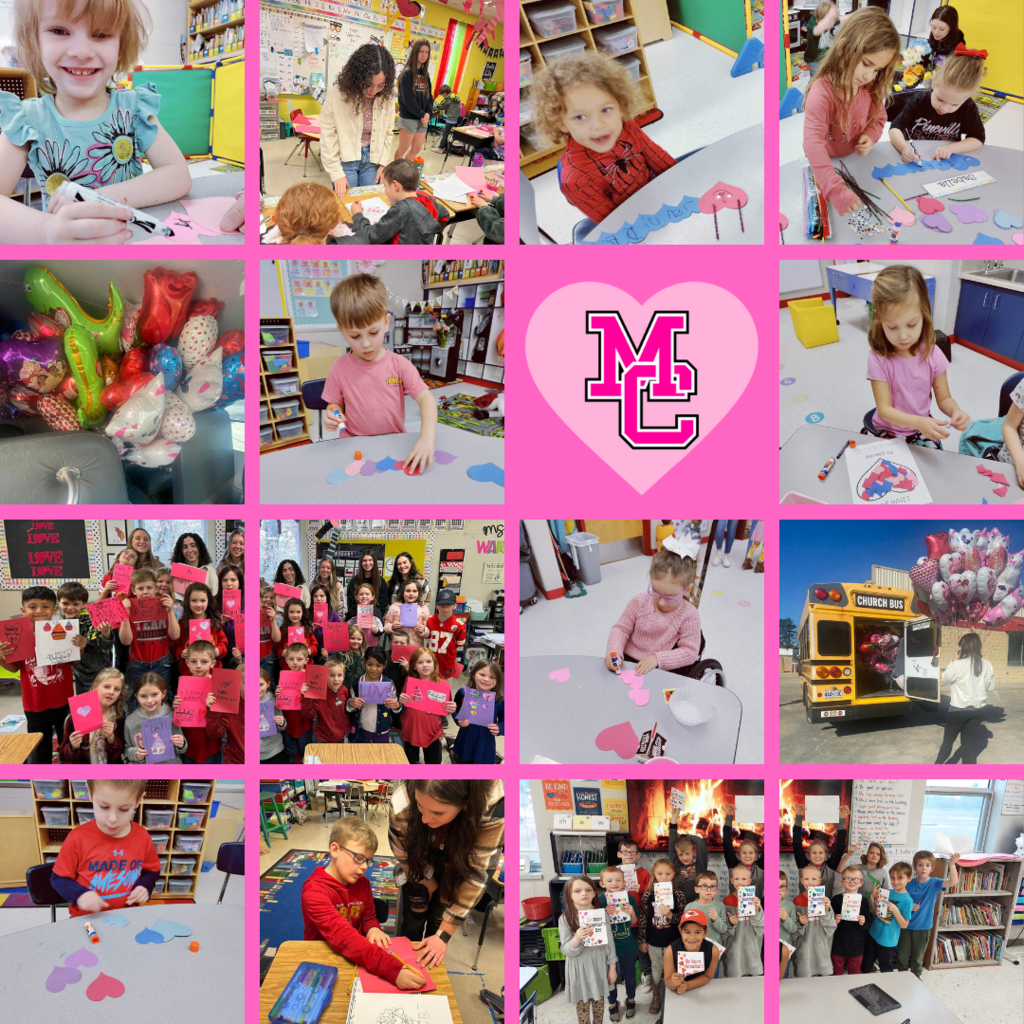 You're invited to our Crazy Christmas Program!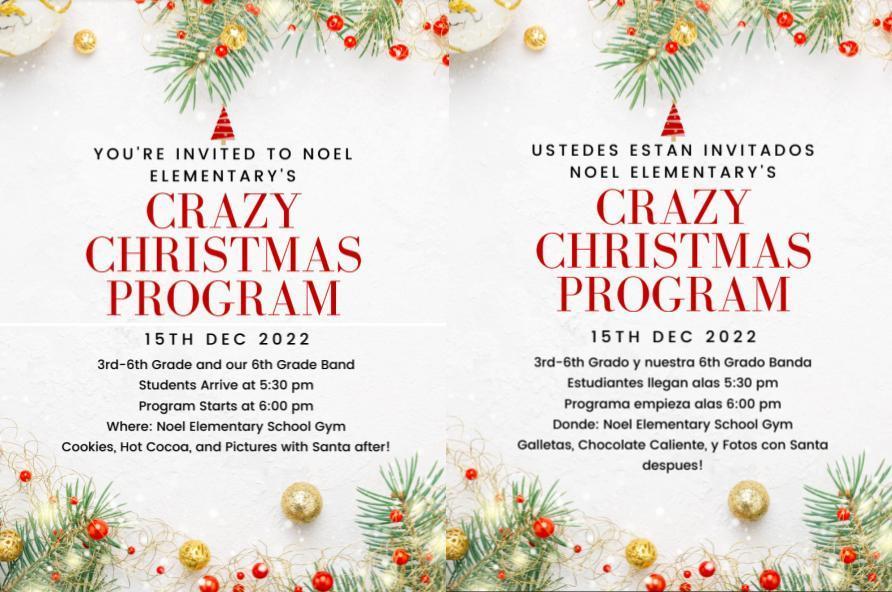 Join us on Veterans Day!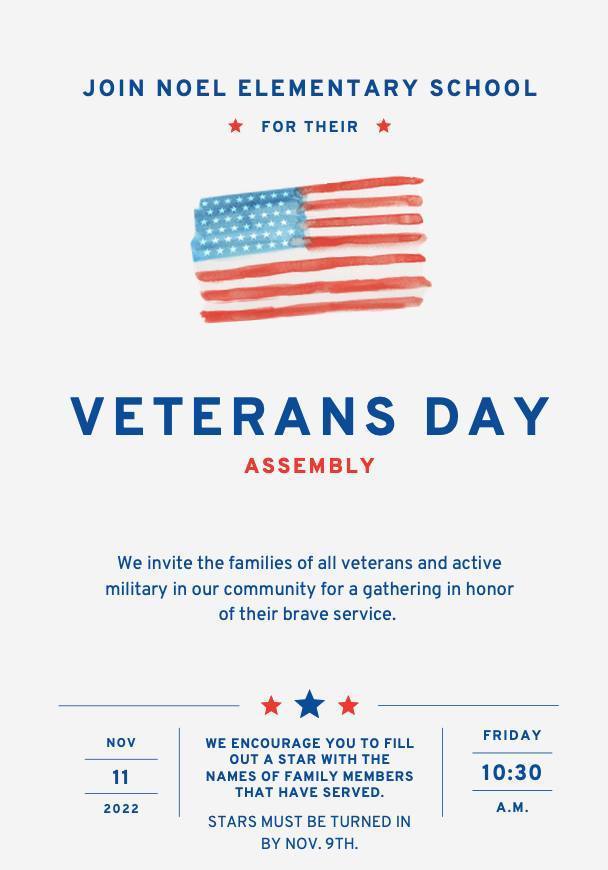 Coming to our school on Friday, October 14! NED's Mindset Mission is a character education program that centers around three important messages that have lifelong relevance: Never give up, Encourage others and Do your best. During the assembly, students will learn about the importance of these three life skills while also enjoying storytelling, magic, humor and yo-yo tricks.
http://www.mindsetmission.com/assembly.html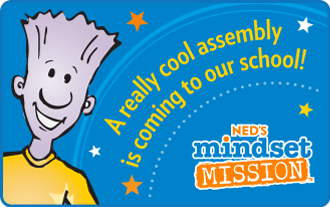 Grandparents--you are invited to breakfast at Noel Elementary on Friday, September 16 to celebrate Grandparent's Day!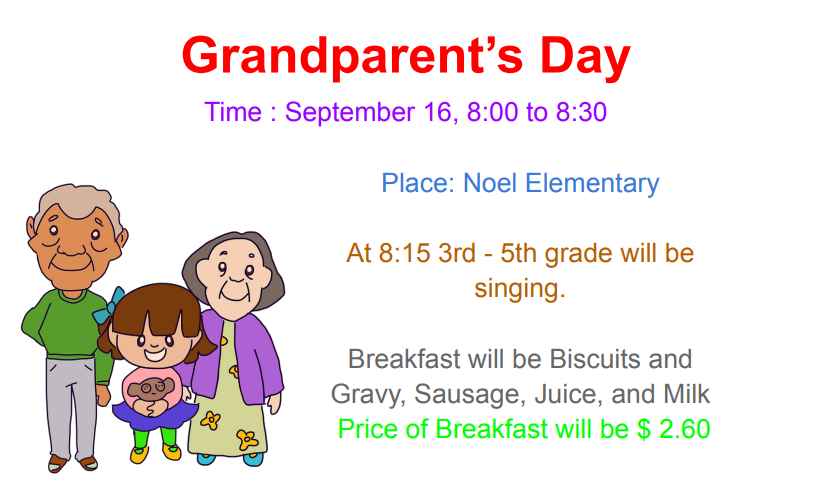 Come join us at the "Rock the Block" Block Party in downtown Noel on Friday, August 19 from 5-7pm.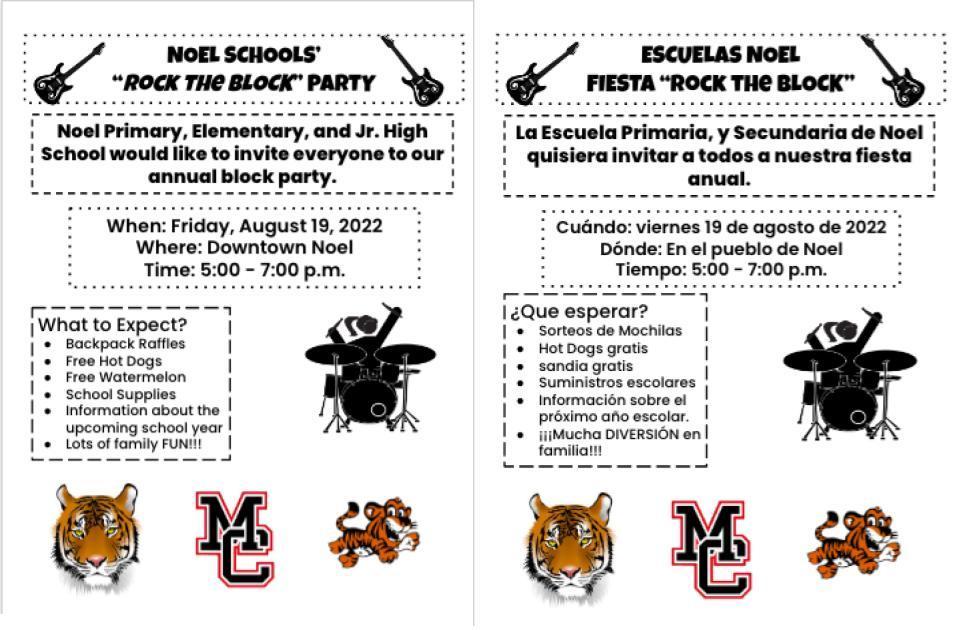 We hope to see you at Open House on Thursday, August 18 from 6-8!

The McDonald County Health Fair is coming to our school!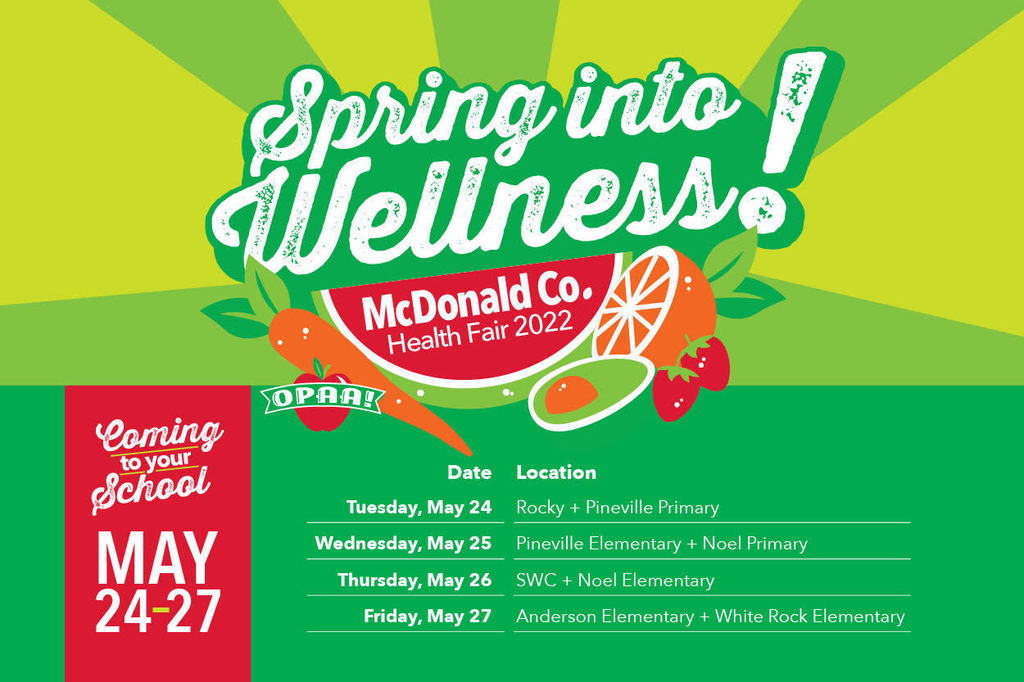 Please join us for 8th Grade Promotion!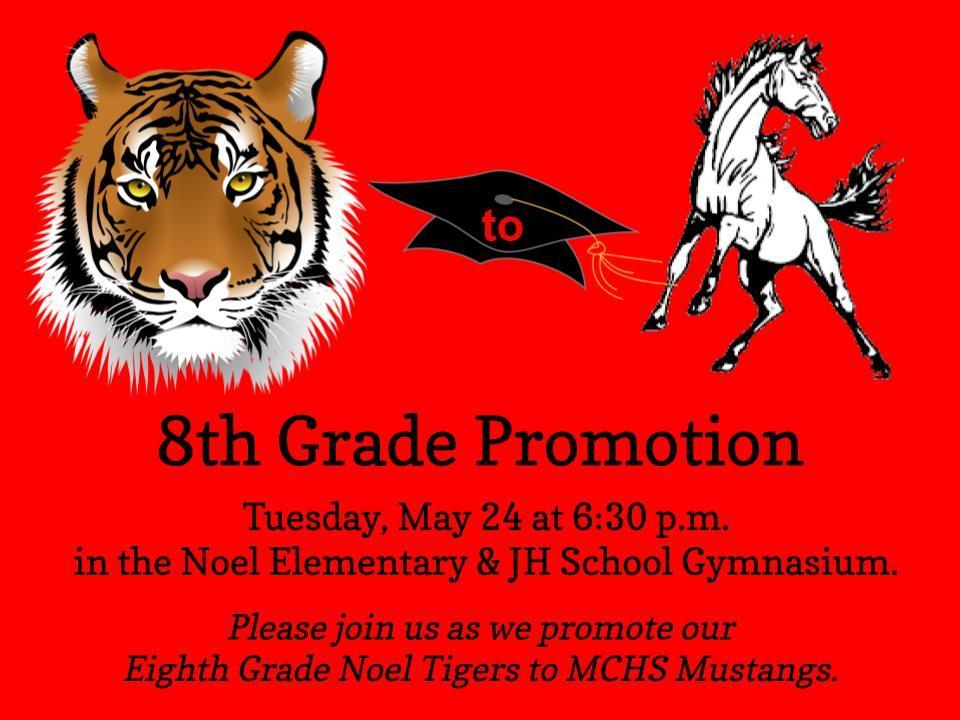 Art & Culture Night is a celebration of all of the diversity we have in our school family. Please join us for this amazing event!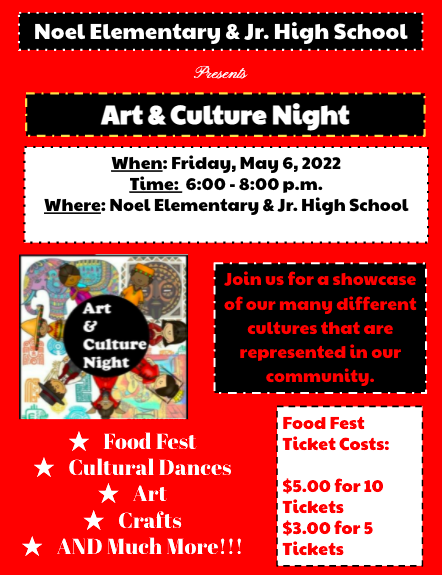 Join us in celebrating Gina Tinsley's retirement!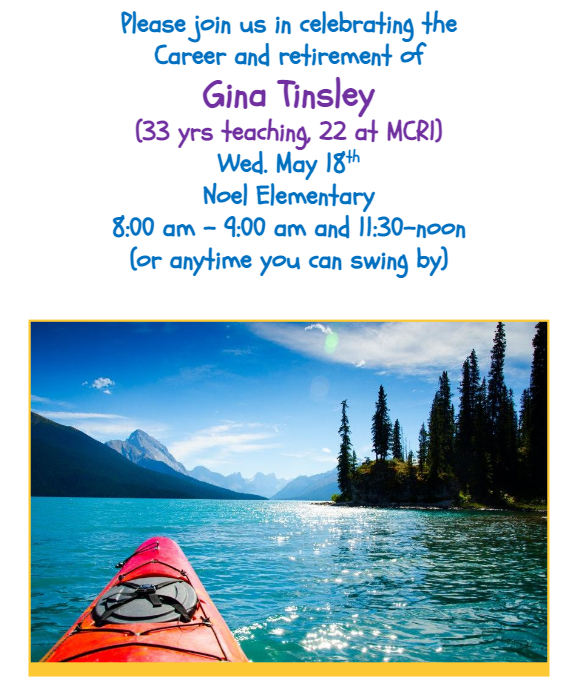 It's time to sign up for a Summer Journey! We will be having a full-day summer school program in our building from June 1-June 30, and we would love for your children to join in on the fun. Students have been given enrollment forms, but if you need additional copies, please feel free to contact us.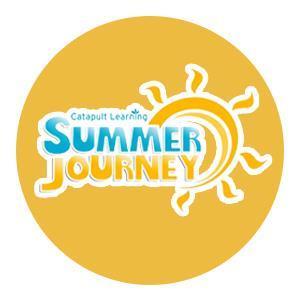 Please join us for our Noel Elementary Spring Music Festival on Saturday, March 5! Student performance times are as follows: 3rd-4th at 11:15 a.m.; 5th-6th at 12:00 p.m.; and 7th-8th at 12:45 p.m. We can't wait to see you!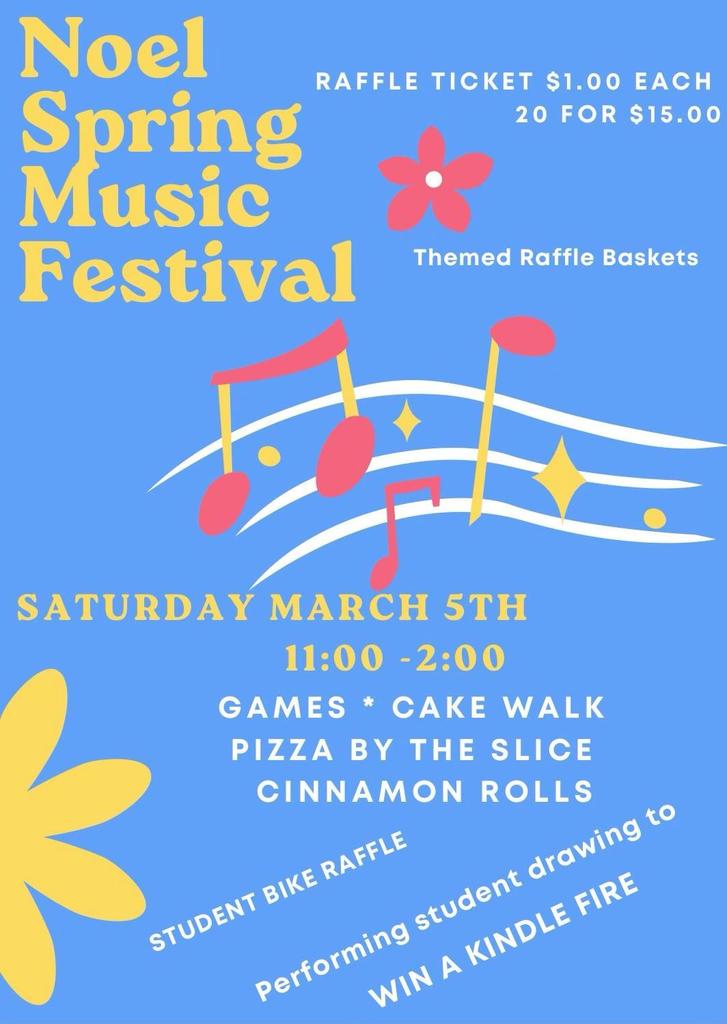 We are going to celebrate Reading with a whole week of fun! We start Monday with A.R. Day and throw some dress-up days in for Tuesday-Friday.