McDonald County High School locked down this morning after the high school received a report of a shot fired. The school followed procedure placing the campus on lockdown while law enforcement investigated and cleared the building. Students and staff responded exactly according to the district's crisis plan. Local law enforcement agencies coordinated a thorough search of the McDonald County High School campus and surrounding neighborhood after which law enforcement determined the report to be false. As of 9:15AM, all lockdowns have been lifted with students returning to classes as scheduled.

No school Friday, October 30.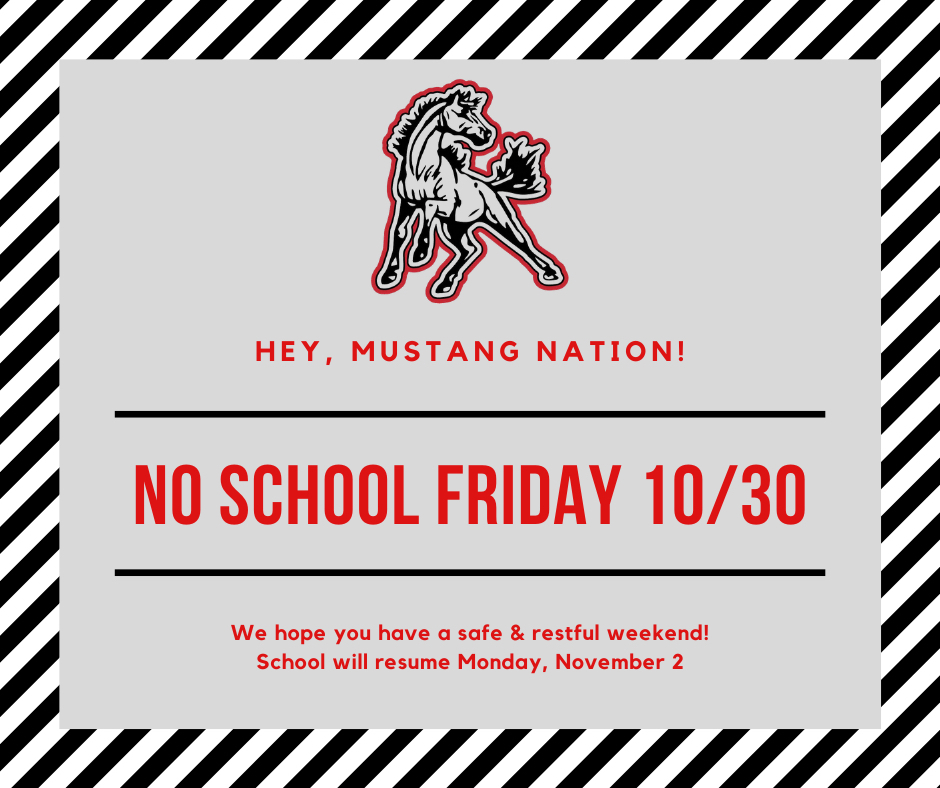 MCR1 COVID-19 Update for October 17, 2020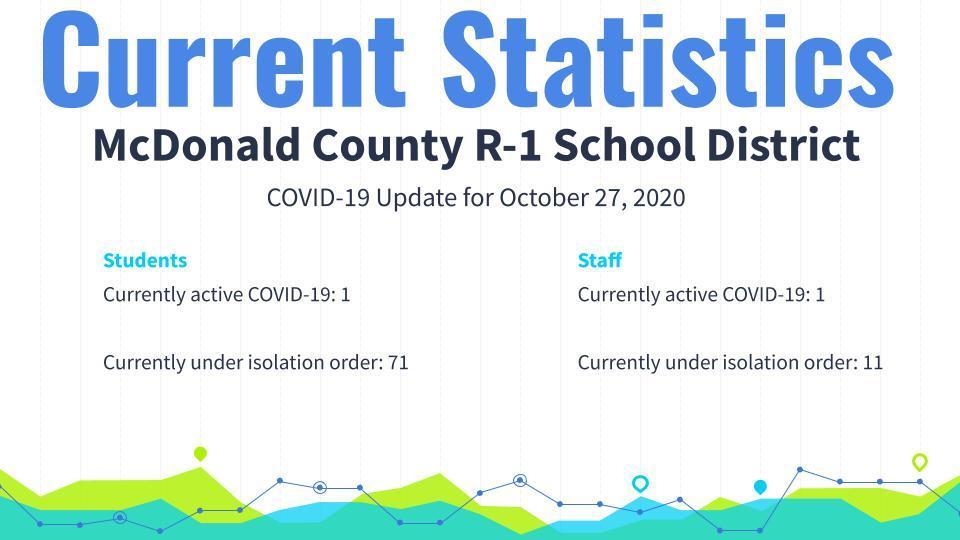 Parent & Teacher Conferences are scheduled for this evening and Thursday! We are excited to share information about your child's progress!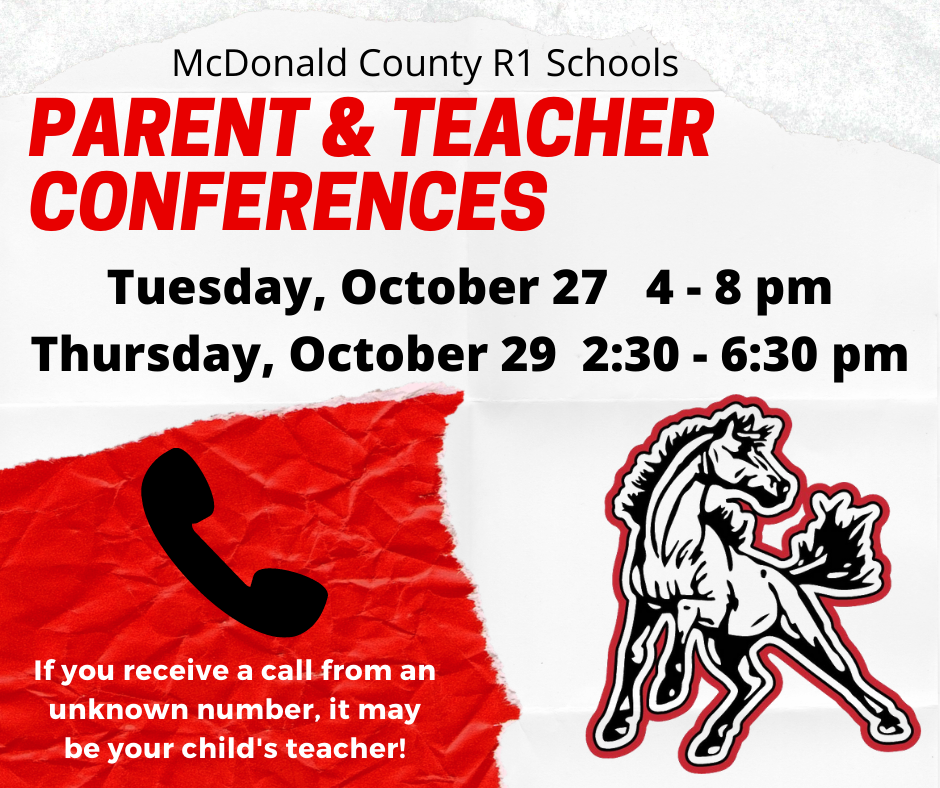 Looking for a job? McDonald County R-1 Schools are hiring. We have several openings that don't require certification. Great opportunities to work with a wonderful staff and serve the students of McDonald County.
https://mcdonald.tedk12.com/hire/index.aspx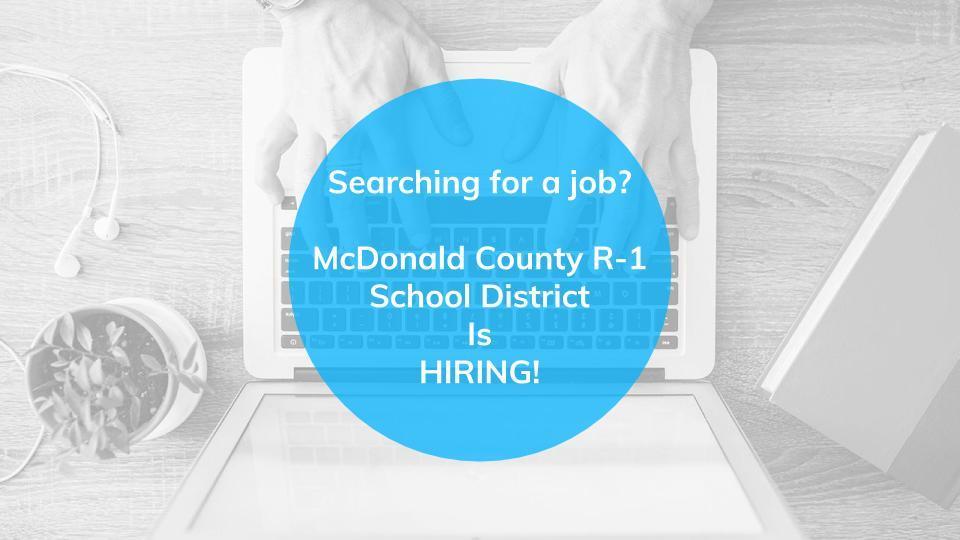 Good morning Mustangs! There are several activities planned this week across Mustang Nation. Please check your school's social media sites for more information! #MCR1Pride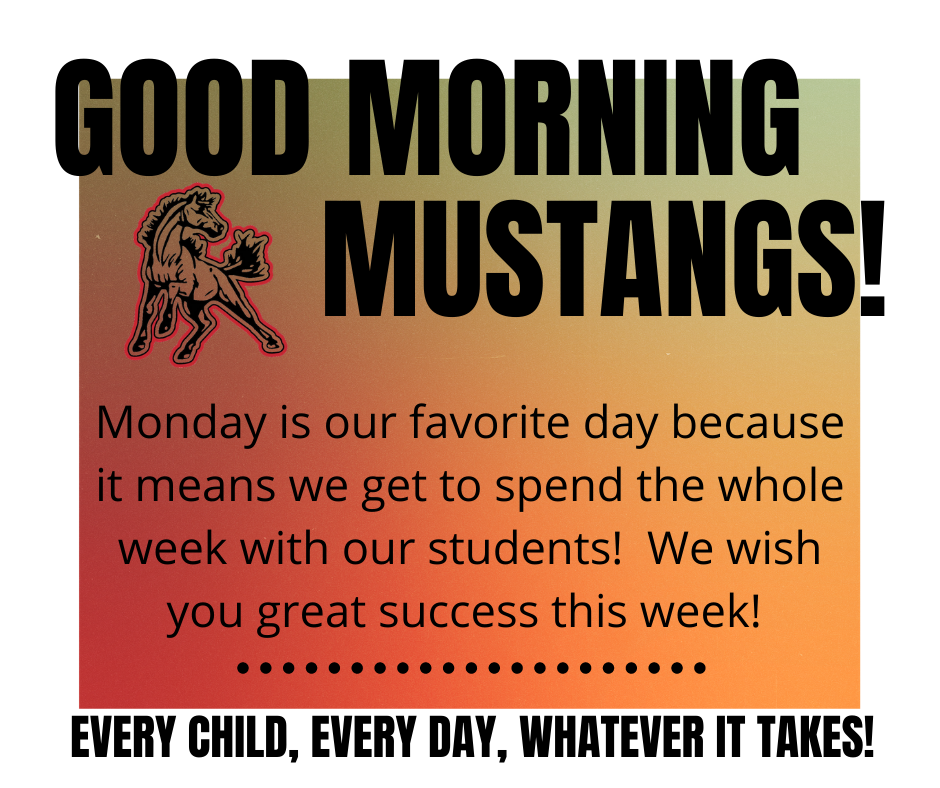 One of our amazing bus drivers, Doug Coberly, went above & beyond his job description to help prepare our nature trail for our SOPE students next week! He worked hard to spread 70 cubic yards of mulch donated and delivered by American Ozark Hardwoods. We are so incredibly grateful to Doug and American Ozark Hardwoods for supporting our mission! We could not be successful without support from our stakeholders! #MCR1PRIDE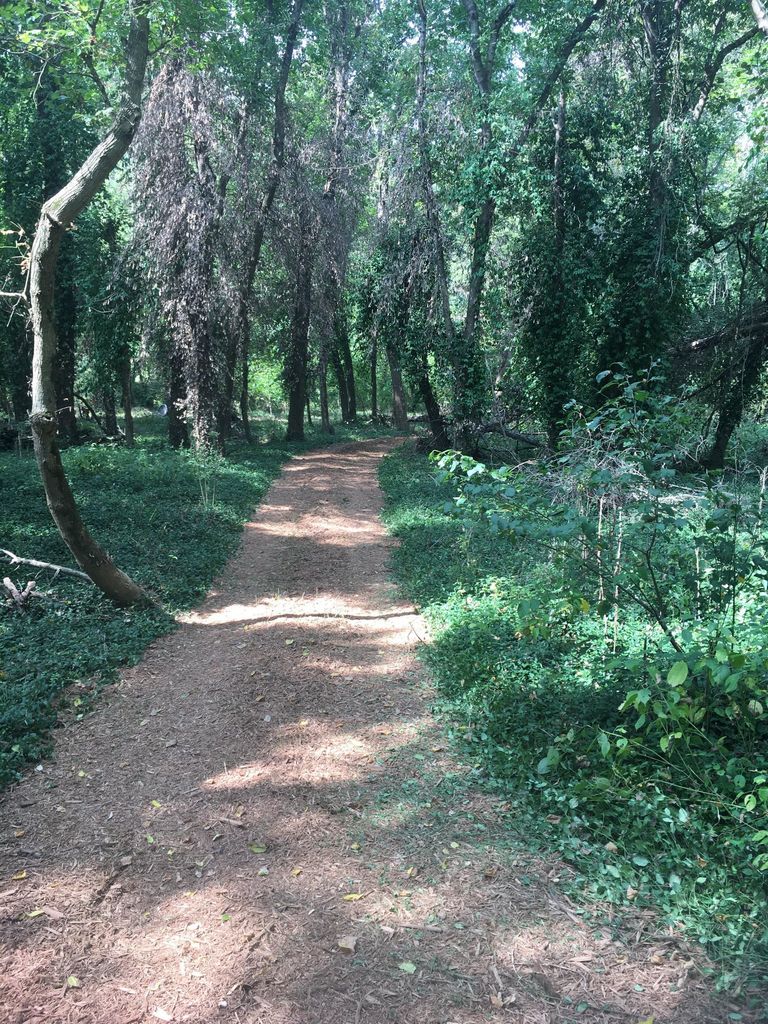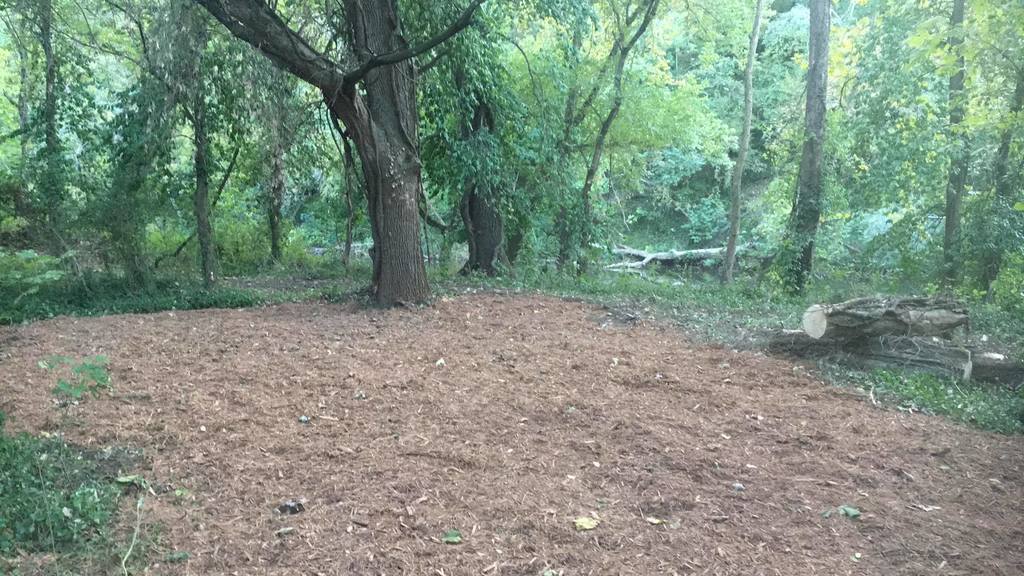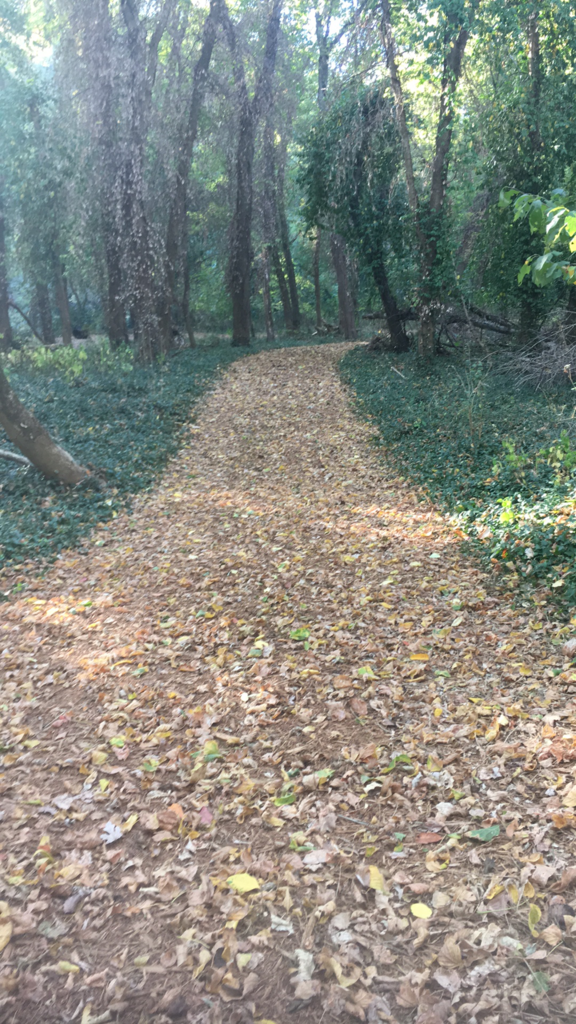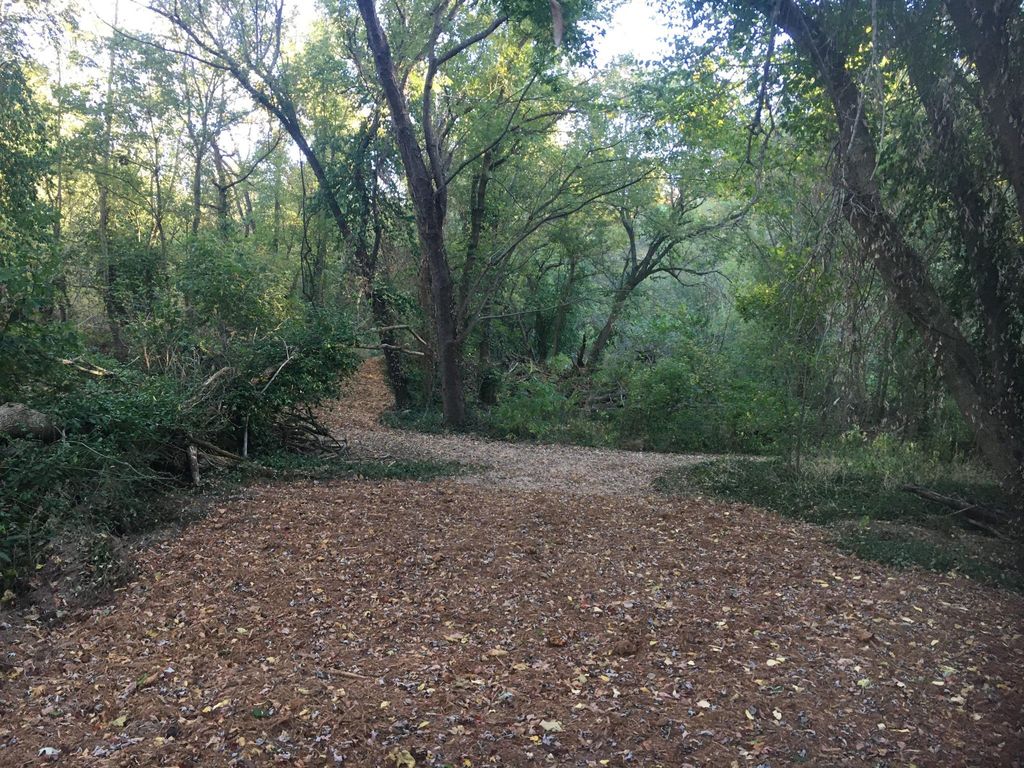 Schools will be contacting families soon to arrange for parent and teacher conferences. We are excited to share information about your child's progress!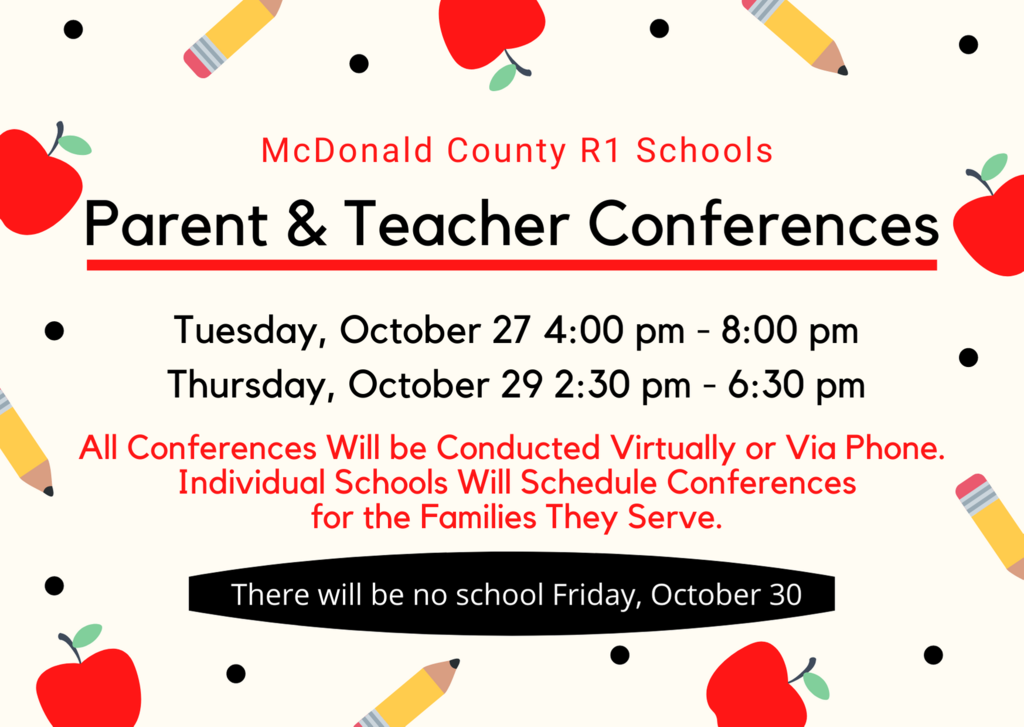 We are thrilled to announce this wonderful service for our Mustangs! Please contact your child's school with your questions.

Congratulations to our Mustang Football team for their win last night! We are so proud of your hard work and teamwork! Our football homecoming versus Seneca is scheduled for Friday, September 25 at 7:00 pm. Our District will show Mustang spirit this week by participating in school dress-up days. We encourage students and staff to participate and boost school spirit. Go Mustangs!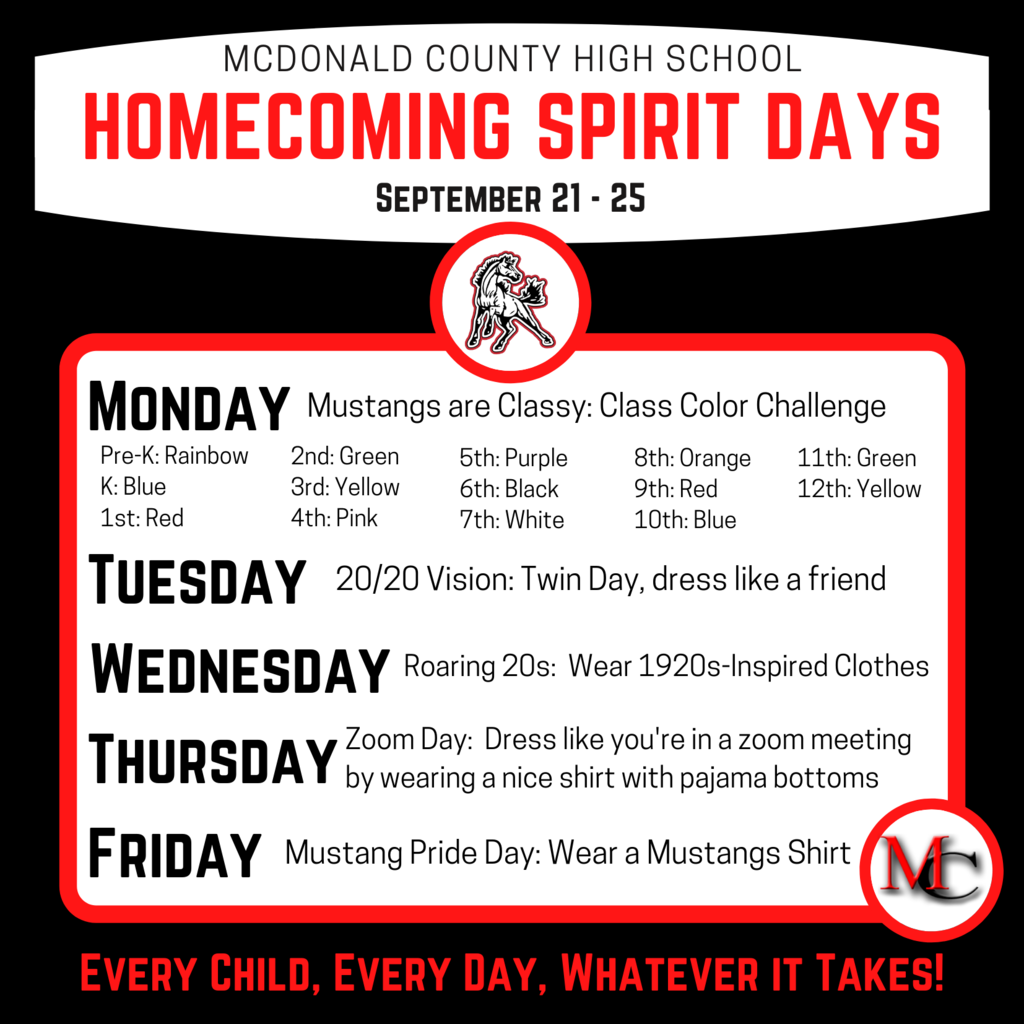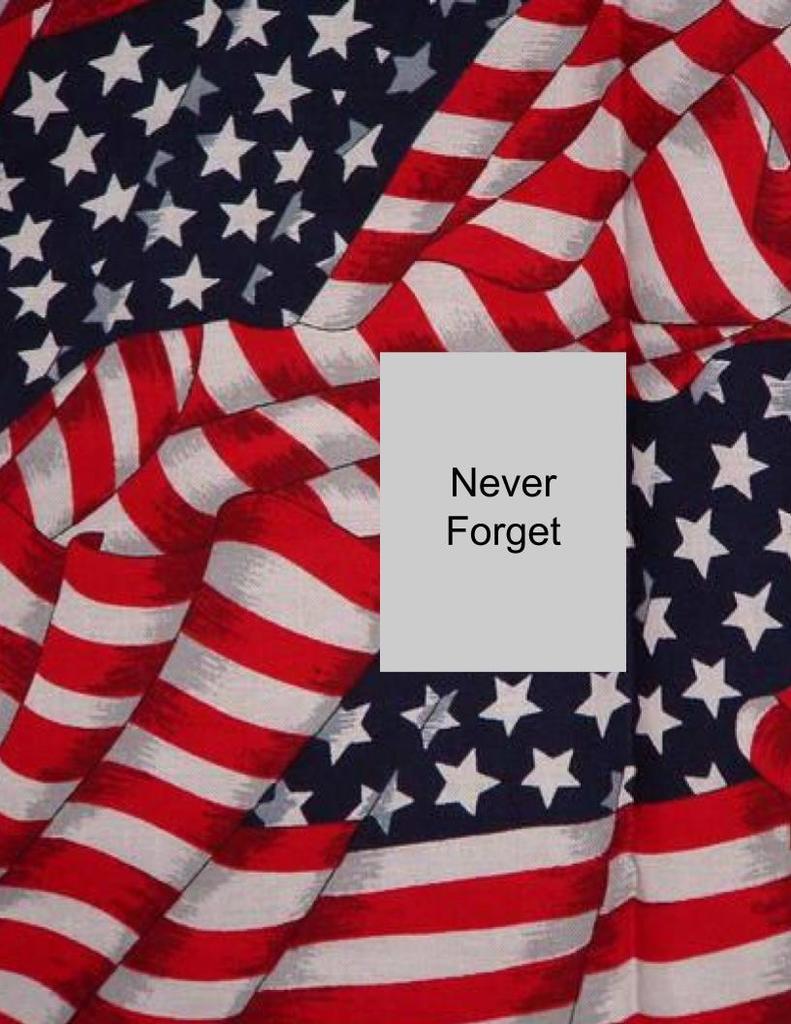 In recognition of Labor Day, there will be no school Monday, September 7.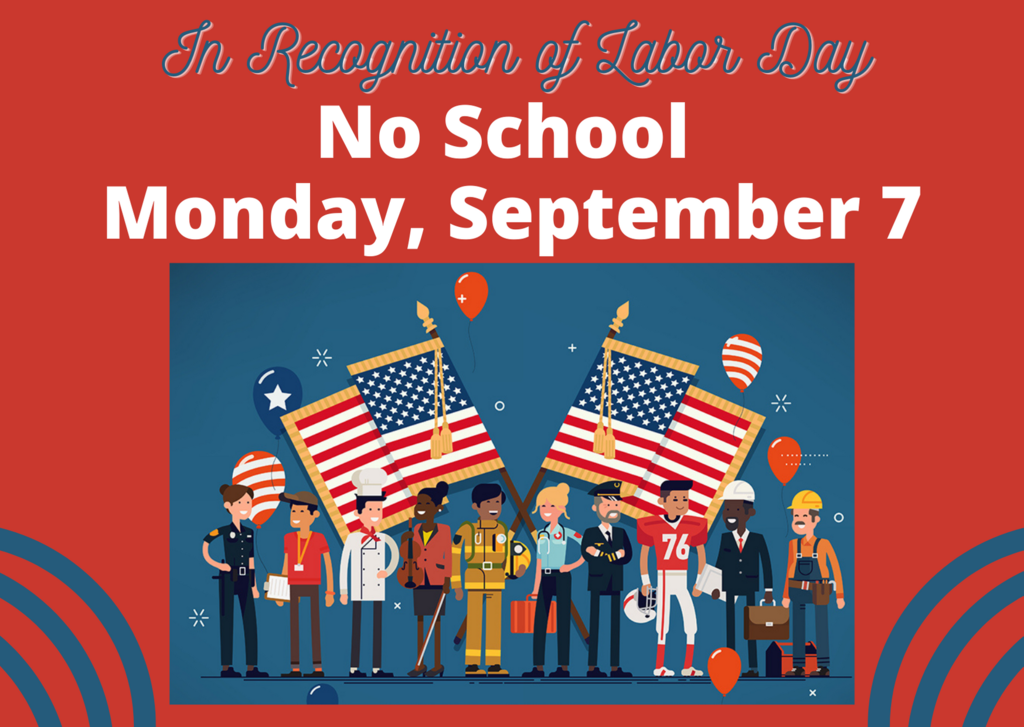 Enrollment for New Students, Kindergarten Students and Early Childhood Students is underway at all McDonald County Schools daily from 8:00am-2:00pm.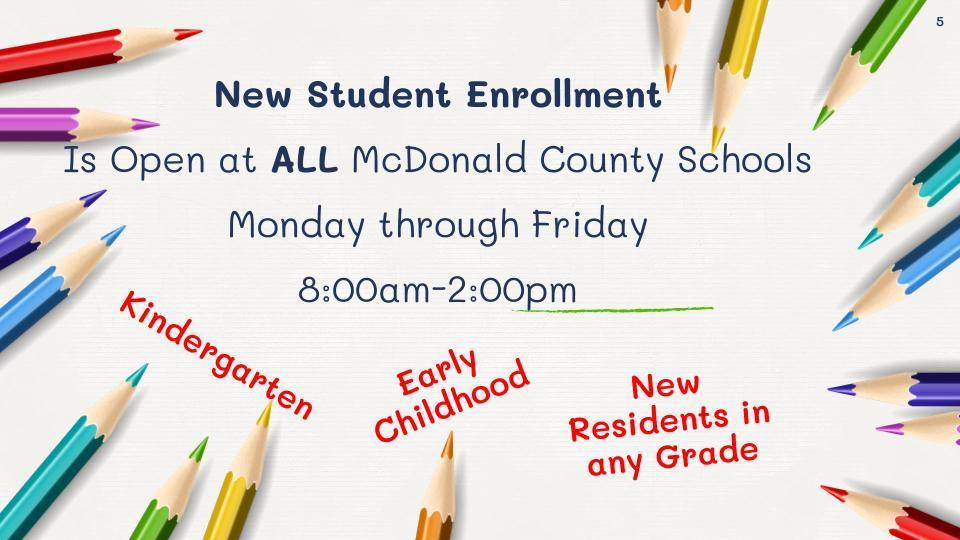 After closing schools in March we are eager to announce our plans to begin school in full on August 24th. The Re-Opening Plan includes health and safety precautions for on campus learning. This plan represents current guidance and recommendations from local and state health officials. MCR1 will continue to monitor the local health situation regarding COVID-19 and will modify the plan in response to any changes in our local community's health situation.
https://docs.google.com/presentation/d/1752fJFLfImdQ1RMPGVvkVgjcKLJl4OqBDxXXfz8l_cE/edit?usp=sharingand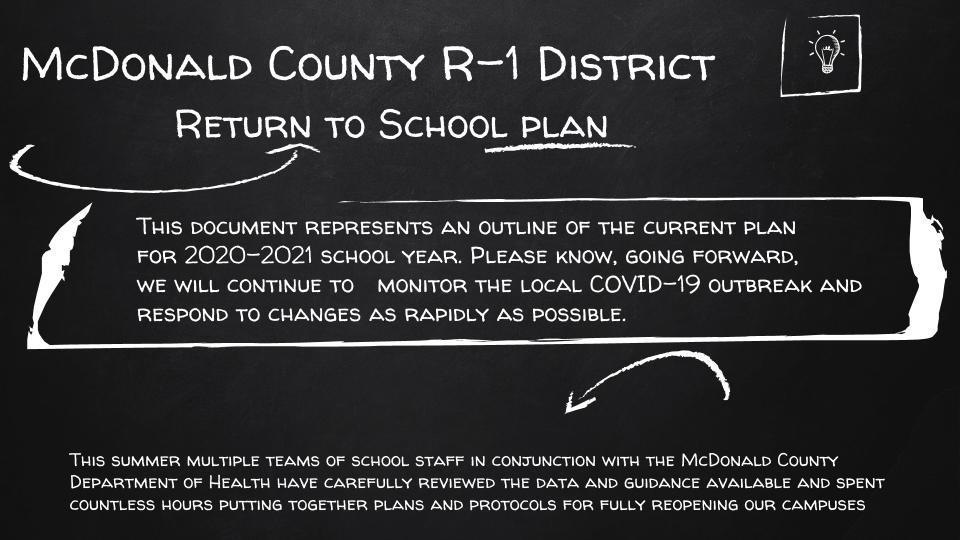 The McDonald County Health Department is offering two opportunities for children to receive their required school immunizations. The health staff will make the clinic as easy as possible! Families will be able to drive through the MCHS parking lot on August 18th or Noel Primary on August 19th. The drive through immunization clinics will be offered from 4:00pm to 6:00 both days.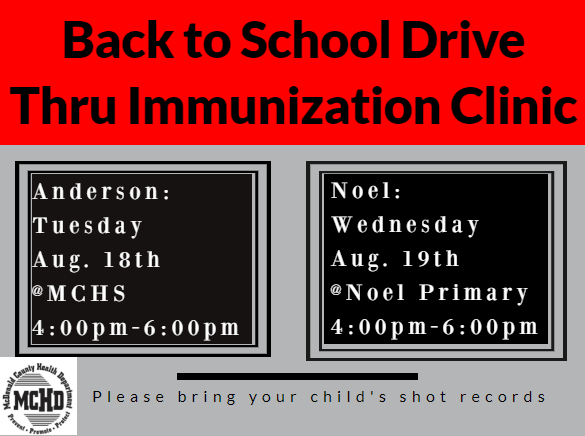 2020 Graduation Ceremony Information for the 2020 Graduation Ceremony on July 10, 2020. • The live stream will begin at 5:15, and the drive-thru ceremony will begin at 6 p.m. • The live stream of graduation can be viewed at
https://www.youtube.com/channel/UCwIGP9PqTT8cJR2NI0tAlLQ
• The radio broadcast can be tuned into at 102.7 FM. • Please park on the grass and not the shoulder of the road if you choose to park along Business 71 in front of the high school. This is where the graduates will be driving after receiving their diplomas.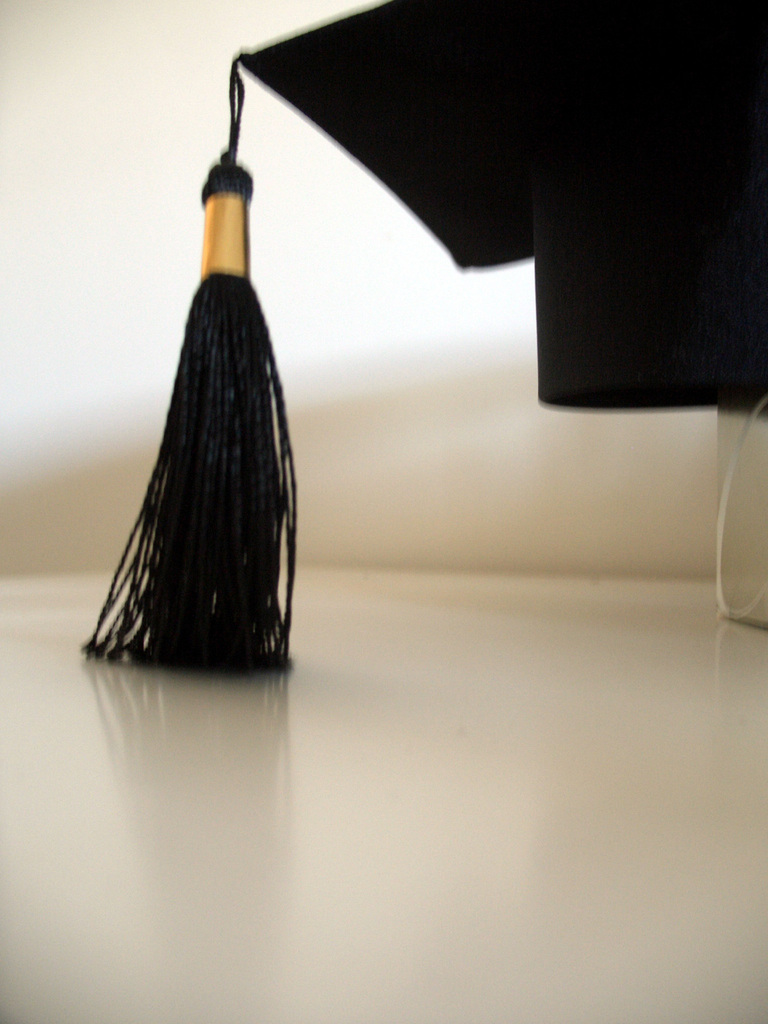 Breakfast and Lunch To-Go Breakfast and lunch will be provided free of charge to all students participating in our Summer School program on campus from July 13th through August 5th. Also during that time any child 18 or younger may pick up breakfast and lunch at local campuses in McDonald County. Breakfast can be pick up Monday through Friday from 8:15-8:30 and lunch will be available from 12:00-12;30 for children not attending Summer School.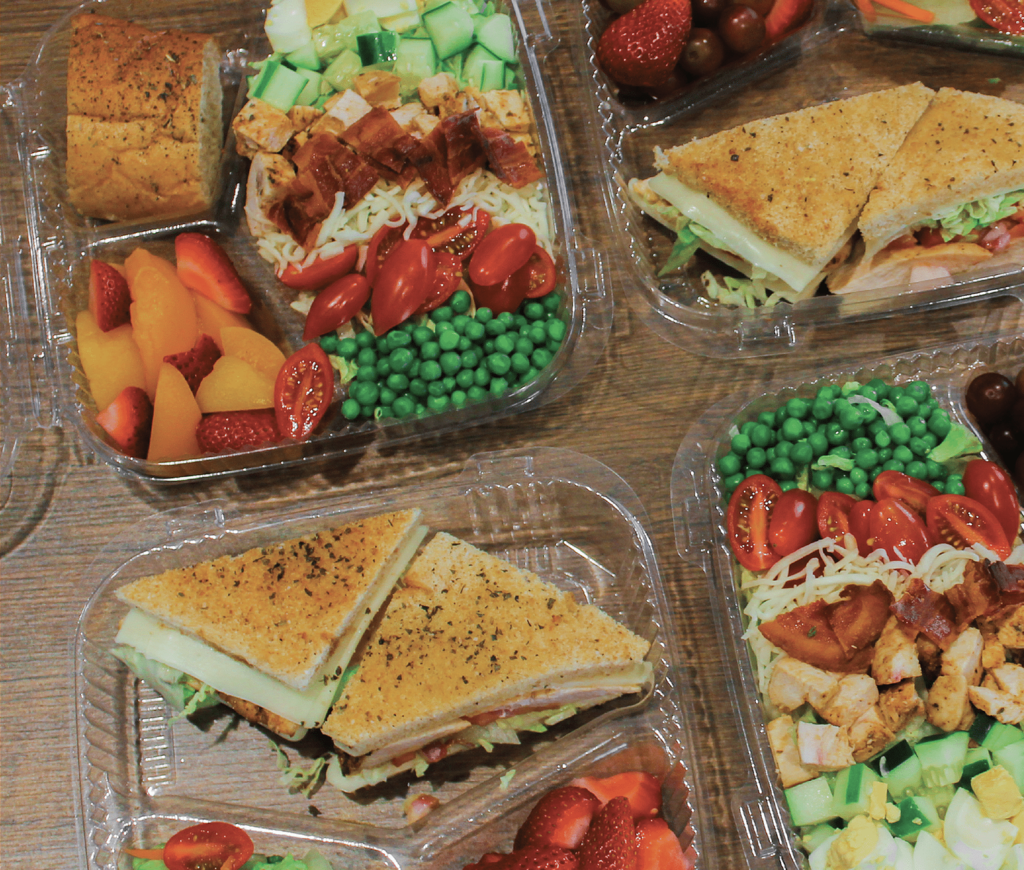 We Want to Hear from You! As McDonald County Schools plan for the 2020-2021 school year, we would like your feedback on learning options that would work best for your family. Options might include seated instruction (face-to-face at school site) or virtual instruction (6 hours a day, at home, with teacher support available). Typical grading would occur with both seated and virtual instruction. Your responses will allow us to make decisions for the upcoming school year that best meets the learning needs of your child while also prioritizing their health. For families with multiple children who will be attending McDonald County Schools in August, please complete a separate survey, using this same link for EACH child in your household.
https://forms.gle/jT2CWiJvMwcNzvqVA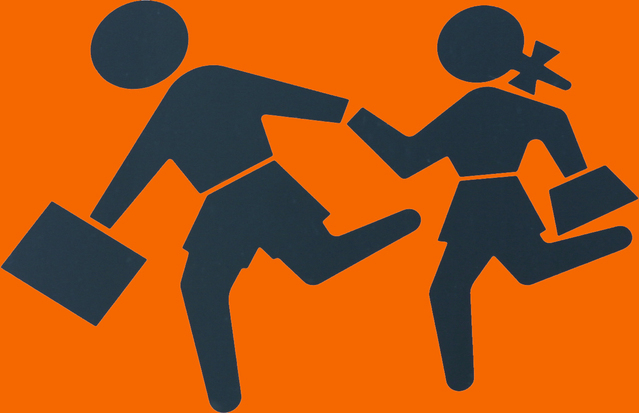 Graduation 2020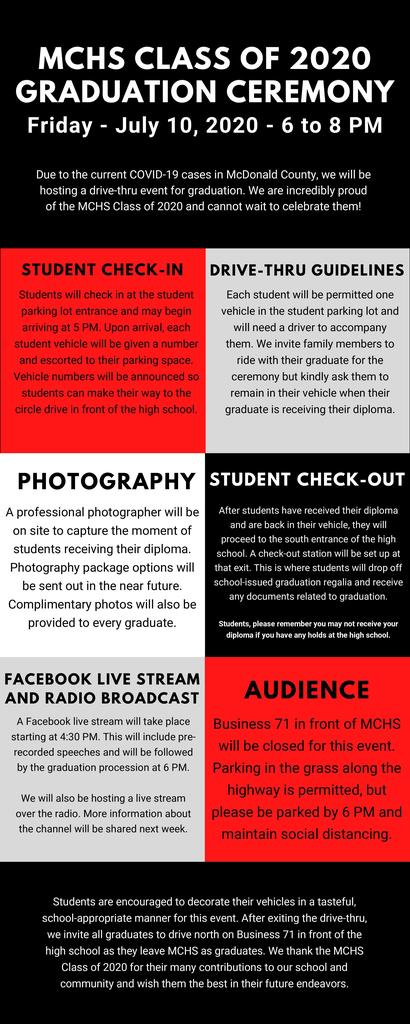 We are excited to announce our new website! We hope this makes it easier for the community to stay up-to-date on what's happening at McDonald County School District!